KRT - Kindergarten Readiness Test®
KRT resources to prepare your child for kindergarten, with prep materials, practice tests and informational guide. Some schools use readiness tests to determine if a child has the skills and behaviors needed to begin kindergarten.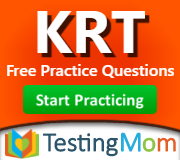 Some students will be asked to take a preschool or kindergarten readiness test to demonstrate that they are ready to start school. These tests may evaluate skills such as color or letter recognition. To learn more about readiness tests, read The Guide to Preschool and Kindergarten Readiness Tests and our interview with kindergarten test expert Robin MacFarlane, PhD.