New Jersey Electrician Exam
Need of a License: Electrical contractors need a license to work in New Jersey. Journeyman electricians do not need a license.
Who Grants a License: Electrician licenses are granted by the New Jersey Board of Examiners of Electrical Contractors.
Qualifications Needed to Receive a License
Contractor: A candidate must be over 21 years of age and hold a high school diploma or equivalent.
A candidate must also have completed one of the following:
Five years' hands-on experience in installation, alteration, or repair of wiring for electric light, heat or power
Four-year apprenticeship
Qualification as a qualified journeyman electrician and completion of at least one year of practical hands-on experience
A bachelor's degree in electrical engineering and two years' practical hands-on experience
Exam Requirements: A candidate for an electrical contractor license must pass the Electrical Contractor Examination.
How to Apply for a License: A candidate for licensure must complete/send an application to the New Jersey Board of Examiners of Electrical Contractors. The telephone to reach the department is (973) 504-6410.
Test Content
The electrical contractor exam is an open-book exam consisting of 50 questions on Business & Law with a time limit of 2 hours and 100 questions on Electrical Contracting with a time limit of 4 hours. A candidate needs at least a 70% grade to pass.
The exam covers the following subject areas: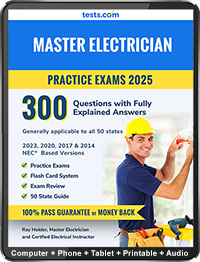 Business Organization
Licensing
Estimating and Bidding
Contract Management
Project Management
Risk Management
Safety
Labor Law
Financial Management
Tax Law
Lien Law
General Electrical Knowledge
Raceways and Enclosures
Services, Feeders, and Branch Circuits
Overcurrent Protection
Conductors and Cables
Grounding and Bonding
Equipment for General Use
Special Occupancies
Special Equipment and Conditions
Motors and Controls
Low Voltage and Communications Circuits
Safety
Fees: There is an examination fee.
Who Administers the Test: PSI - They can be contacted at 800-733-9267 or online at https://candidate.psiexams.com/.
License Renewal Requirements: Licenses must be renewed every third year before March 31st.
Applicable Code: NEC 2020
To prepare for your electrician exam, use the following two practice exams by Ray Holder (Master Electrician and Certified Electrical Trade Instructor) which have 300 questions with fully explained answers:
For more information on licensing and exam prep, go to Tests.com's Journeyman and Master Electrician Test Guide.
And take Tests.com's free Journeyman Electrician Practice Test and the Master Electrician Practice Test.
For electrician exam preparation products and services, such as study guides, practice tests, flashcards and courses, go to Tests.com's Journeyman Electrician Exam and Master Electrician Exam listings.