2022 Edition
Personal Trainer Test Guide
Personal trainers are professionals who help individuals attain their fitness goals. Trainers do both exercise instruction and prescription. They assess each client's fitness level and help him or her to set reasonable goals. They then design an individualized fitness program for that client and help the client reach his or her goals by providing feedback and holding him or her accountable. A trainer generally accompanies a client around the gym and provides instant feedback and support when needed. In addition, many trainers try to educate their clients about other areas of wellness aside from exercise, including nutrition, health, alcohol consumption and the like. Personal trainers may work for a gym or fitness center or be self-employed.
Personal trainers may get certified by the American Council on Exercise (ACE), the American College of Sports Medicine (ACSM), the National Strength and Conditioning Association (NSCA) or the National Exercise Trainer's Association (NETA). Each organization requires all candidates to pass an exam, but the exams have very different content.
American Council on Exercise
The American Council on Exercise is a non-profit organization that is devoted to improving the health and wellbeing of all Americans. It is the largest nonprofit fitness organization in the world and is accredited by the National Commission for Certifying Agencies (NCAA).
The ACE exam is administered at more than 500 locations around the country. Most of the testing centers are located on university and college campuses. The exam is completely computer-based. All candidates are required to have a current CPR and AED certificate on file with ACE before registering for the exam. Candidates should also have completed a training course prior to registration. The ACE offers their own training course but will also accept outside courses. In addition, registrants must be 18 years old and have a high school diploma or GED.
The test has 150 questions. All of them are multiple choice. The test does not include a practical. The following topics are covered:
- Client Interview and Assessment
- Program Design and Implementation
- Progression and Modifications
- Professional Conduct, Safety and Risk Management
A candidate must achieve a score of 500 points or higher to pass the exam; the maximum possible score on the test is 800 points. Candidates are qualified to begin practicing general personal training once they receive their certification.
Certified personal trainers are not required to take continuing education courses, but ACE does have them available. The organization also offers advanced certification options for trainers who wish to specialize in a particular area.
All candidates must register for the exam through the
ACE
website.
American College of Sports Medicine
The American College of Sports Medicine was the first organization to begin certifying personal trainers and other fitness professionals. The ACSM certification is NCAA-accredited, which means it is accepted at the highest levels in the sports and fitness world.
Personal trainers who are certified by the ACSM are qualified to act as a general personal trainer. They may not, however, work in a specialty area unless they pass additional certification tests. All candidates must have completed high school or earned a GED. They must be at least 18 years old and have a current Adult CPR certification from either the American Red Cross or the American Heart Association. It is also recommended that they take the ACSM personal training workshop before registering for the exam.
Pearson Vue administers the ACSM certification exam. It can be taken at any Pearson Vue facility worldwide. The 150 multiple-choice questions are divided into the following areas: Exercise Prescription (Training) and Programming (28 percent), Exercise Physiology and Related Exercise Science (24 percent), Health Appraisal and Fitness Exercise Testing (13 percent), Clinical and Medical Considerations (10 percent), Nutrition and Weight Management (nine percent), Safety, Injury Intervention and Emergency Procedures (eight percent), Program Administration, Quality Assurance and Outcome Assessment (four percent), and Human Behavior (four percent).
The test does not have a practical. A passing score is 550 points. Continuing education is available but is not required. Candidates register through the
Pearson Vue
website.
National Strength and Conditioning Association
The National Strength and Conditioning Association is a non-profit educational organization that has members in 52 countries. It is at the forefront of research into exercise practices and injury prevention. The NSCA exam is also accredited by the NCAA.
The NSCA exam is administered at many testing centers around the country. Many of them are located in the offices of other businesses. Successful candidates are certified to practice general personal training, but the NSCA also offers advance certifications for those who wish to specialize. All candidates must complete a training course that has a hands-on component before they can take the exam. The course must include a practical skills evaluation. In addition, all registrants must be at least 18, hold a high school diploma or GED and be certified in both CPR and AED.
The examination has 155 questions, which are divided into the following categories: Client Consultation and Assessment, Program Planning, Techniques of Exercise, and Safety, Emergency Procedures and Legal Issues. The maximum possible score is 100. A score of 70 or higher is required to pass the exam. All of the questions are presented in multiple choice format. Some of the questions are based on videos. The test does not have a practical.
All NSCA-certified personal trainers must take continuing education classes in order to get recertified, but trainers can fulfill these requirements a number of ways, including by attending workshops or seminars, or by serving on a NSCA committee. First Aid and CPR recertification classes also count toward a trainer's continuing education requirements.
Candidates must register using the NCSA's
website
. The NCSA holds all candidates scores until it receives copies of their education certificate and their CPR and AED certificates. Members of the NCSA receive a discount on the registration fee.
National Exercise Trainer's Association
The National Exercise Trainer's Association is a non-profit organization that is accredited by the National Commission for Certifying Agencies. It has been offering training and certification in the fitness industry since 1977. It offers certification and continuing education in group exercise, personal training, pilates and yoga.
NETA's personal trainer certification is designed for those wanting to work with individuals or small groups. Personal trainers in NETA programs learn how to challenge and motivate clients to reach fitness goals. The curriculum includes the following topics:
- Exercise Science
- Health & Fitness Assessments
- Exercise Programming for Healthy Adults
- Exposure to Cardiovascular & Strength Training Equipment
- Dynamics of Communication & Leadership Skills
The NETA-CB exam for personal trainers consists of 100 multiple choice questions, including sections on Initial Client Intake and Assessment, Program Design, Program Implementation, Evaluation and Ethics and Professional Issues. The candidate is give one and a half hours to complete the exam.
Candidates can learn more about NETA programs and register online.
For more information on various personal trainer certification exams and study aids, see Tests.com' Personal Trainer Tests directory.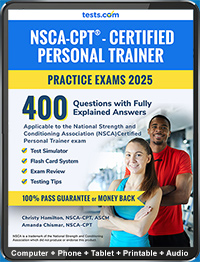 Quality starts with who wrote the material.
Our practice exam writer
s
:
Amanda Chismar

Christy Hamilton
The NSCA Certified Personal Trainer certification is for professionals who work with both active and sedentary clients in one-on-one situations.
Exam content covers:
Client Consultation/
Assessment:
Initial Interview
Health Appraisal
Medical History Review
Fitness Evaluation
Basic Nutrition
Weight management

Program Planning:
Goal Setting
Program Design
Training Adaptations
Special Populations

Exercise Techniques:
Resistance Machines
Free Weights
Cardiovascular Machines
Non-machine Exercise Techniques
Safety, Emergency Procedures and Legal Issues