2020 Edition
Postal Service Exam Guide
To work with the United States Postal Service, one must meet certain criteria and pass an exam. Administered by the United States Postal Service, the 473 Exam is the exam that all entry-level postal applicants must pass before they can begin working.
The entry-level jobs that require the 473 Exam include:

• City Carrier
• Mail Processing Clerks
• Mail handler
• Sales, Distribution Associate, and Services
• Rural Carrier

Recently, the Postal Service has developed a new entrance exam that is now taken on a computer at designated testing facilities instead of a long, handwritten exam. The new exam has been broken down into five major categories:

1. Address Checking- Where you determine if two addresses are identical
(60 questions in 11 minutes).

2. Forms Completion- Complete forms with the correct information
(30 questions in 15 minutes).

3. Coding- Assigning the proper code to addresses
(36 questions in 6 minutes).

4. Memory- You must memorize the assigned codes for address ranges
(36 questions in 7 minutes).

5. Inventory of Personal Experience and characteristics- Where you fill out information about your past experiences and your personality. (236 questions in 90 minutes).

Part five of the exam is now given online when you first apply for a position.
You must pass this section with a score of 70 or better, and if the section
is passed your name will be added to the list of potential applicants for the
job vacancy. Also, part five is the only section of the exam that cannot be studied for. It is a personality assessment, about your likes and dislikes, and also gives the Postal Service an idea of your previous work history. If this section is filled out honestly, the Postal Service can find a job that is better suited to you.

Applicants must finish the exam with a 70% or higher to pass. Then, the applicants who have passed will be placed on the "Register" or list in order from highest to lowest scores. The people with the highest scores will be called for an interview first, and the Postal Service will continue to call down the list as more job openings become available.

Requirements to take the exam:

• Applicants must be 18 years of age or older. However, applicants may be 17- years-old if they have a high school diploma or G.E.D.
• Applicants must be a U.S. citizen or legal resident (Green Card acceptable).
• Applicants must not have any felony convictions.

Scheduling for the exam differs regionally and is updated by the Regional Postmaster. Contact your local post office to find out more information about where your local exam is conducted, or call 1-478-757-3199 or TTY 1-800-800-8776. The exam is free of cost.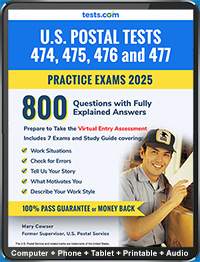 Quality starts with...
...who wrote the material.
Our practice exam writers:
Written by:
Mary Cowser,
Former Supervisor and
US Postal Service Expert