Relationship DNA Test
DNA test resources including products and services with expert interviews, informational guide and more.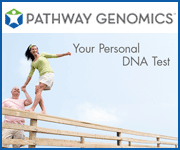 Relationship DNA tests are typically used to determine maternal and paternal lineage, grandparentage and siblingship. It is most often used when the father of a child is not avaialbe for testing. A relationship DNA test can not conclusively determine maternity or paternity, but can establish materal and paternal lineage. To learn more about relationship DNA tests, see our Relationship DNA Test Guide and our interviews with genetic test experts Kristine Ashcraft and Dr. Michael Baird.