TerraNovaTM Test Preparation
TerraNova Test Prep resources including TerraNova practice tests, TerraNova Testing Guide and more. The TerraNova is used in grades K-12 to determine the level at which a student is performing.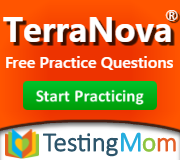 The TerraNova is a standardized test that assesses students in kindergarten through the twelfth grade. Three versions of the test are available, including Multiple Assessments, Complete Battery and Survey. TerraNova tests are used to determine if students are performing at, below or higher than grade level. To learn more about the TerraNova Test, see our TerraNova Test Guide.