WISC - Wechsler Intelligence Scale for Children®
Test Preparation
WISC Practice Tests and other WISC test prep resources to help your child be more prepared for the WISC III. The WISC is an intelligence test for children and is often used to determine eligibility for special programs.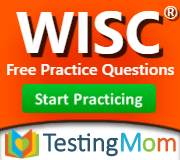 The Wechsler Intelligence Scale for Children, or WISC, asseses a child's intelligence and offers an IQ score. The verbal exam is given to children ages 6 to 17 and, in addition to the IQ scores, offers individual scores in processing speed, perceptual reasoning, verbal comprehension and working memory. This exam is often used to help diagnose learning disabilties, as well as for admission to private schools and gifted education programs. Learn more about the WISC with our WISC Test Guide and in our interviews with test experts Tim Sitar and Robin MacFarlane, PhD.