2020 Edition
NSCA CSCS Practice Exam
Take this free NSCA Certified Strength and Conditioning Specialist practice exam to get an idea of the type of questions that appear on the actual certification exam.
The NSCA CSCS exam covers main two subject areas: Scientific Foundations and Practial/Applied. The sections are broken down as follows:

Scientific Foundations (95 questions; 1.5 hours)
Exercise Science
Nutrition
Practical/Applied (125 questions, 2.5 hours)
Exercise Technique
Program Design
Organization and Administration
Testing and Evaluatio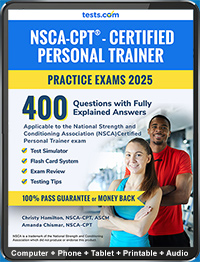 Athletic and personal trainers may get certified as Certified Strength and Conditioning Specialists (CSCS) by the National Strength and Conditioning Association. To get certified, candidates must qualify and pass an exam. The exam is comprised of two sections: Scientific Foundations and Practical/Applied. To learn more about the CSCS exam and certifiction, see our CSCS Test Guide.