Catholic High School Entrance Tests
Find resources to prepare for Catholic High School Entrance Exams, with study guides, online courses, practice tests and more. Catholic high schools often use entrance tests to determine admissions. For more information, see Tests.com's Catholic High School Test Guide.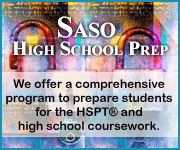 Students applying for admission to a Catholic high school likely will be required to take an admissions exam, usually either the Cooperative Admissions Exam (COOP) or the High School Placement Test (HSPT). Both exams test a student's knowledge and ability to process information, offering insight into their future learning potential. To learn more about Catholic high school entrance exams, read our Catholic High School Entrance Test Guide.