CogAT - Cognitive Abilities Test
Find prep materials for the CogAT, with practice tests, informational guide and more. The CogAT is used in grades K-12 to assess a student's problem solving and reasoning skills. It is often used to select students for gifted educational programs. For more information, see Tests.com's CogAT Guide.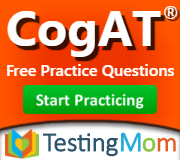 The Cognitive Abilities Test, or CogAT evaluates a child's problem solving and reasoning skills using quantitative, verbal and non-verbal cues. The group-administered test is given to students in grades K-12 and is often used to select students for Gifted and Talented Education programs. The test can also be used to predict future learning abilities and to place students in advanced classes. The lead author of the CogAT is Dr. David F. Lohman, Professor of Educational Psychology at the University of Iowa. Dr. Lohman received his doctorate in educational psychology from Stanford University in 1979. He has authored numerous papers and presented a large body of influencial ideas including An Aptitude Perspective on Talent Identification and Development. In 2007, The National Association for Gifted Children named Dr. Lohman as winner of their Distinguished Scholar award. Learn more about the CogAT from our CogAT Test Guide.