2022 Edition
HVAC Test Guide
HVAC Test Summary
What:
HVAC technician certification and licensing exams test an individual's HVAC knowledge and skills.
Who:
Individuals wishing to work as HVAC technicians must check with the state or municipality in which they work to see if licensing is required. Certification exams test knowledge and skills and can lead to increased employment and compensation opportunities
Where:
Locations vary by state and municipality. Some HVAC organizations, unions, training locations and trade schools also offer tests.
When:
Since tests vary widely, candidates must check with the organization, group or agency to determine when exams are given.
How:
Most certification and licensing exams are multiple choice tests.
Type:
There are many types of certification and licensing exams. These can differ by state, by specialty, by level of profession, and by organization offering the exam.
Why:
HVAC technicians require specialized knowledge and skills and certification and licensing exams test those skills. They EPA requires that any HVAC technician that handles or purchases refrigerants be certified to insure safety and security.
Time:
Time limits vary widely.
Language:
English
Preparation:
Most tests require some educational training and on the job training as well. There are certification courses, review materials and study materials to help candidates prepare for exams.
Cost:
Costs vary depending on location or organization administering the test.
By Andrea Cohen, Tests.com Contributing Writer
Heating, air conditioning and refrigeration, also known as HVAC, requires specialized skills, knowledge and experience. Some states and municipalities require that HVAC specialists be licensed and others do not. Even among the locations that do require a license, requirements vary widely, but licensing requirements always include some type of test and usually minimum educational, training or experience requirements. In addition to licensing exams that may be required to work in various locations, there are also numerous certification exams that can be taken to show proficiency, further careers and advance employment and compensation opportunities.
About HVAC Certification and Licensing
States and localities may have different requirements for certification and licensure. Those locations that require a license have candidates take some type of test. This test can vary greatly and include knowledge of HVAC processes, electrical codes, proper handling of refrigerants, laws and regulations and more.
There are also numerous tests that can be taken during different times in an HVAC technician's education and career to certify their competency in various aspects of the profession. These tests are not always required but do help to advance an individual's career and provide greater employment and compensation opportunities. Entry-level certification exams for those with less than one year of experience are usually administered at trade or technical schools. As experience increases, other certification exams deal with specific types of equipment or processes.
For states or municipalities that require licensing by HVAC technicians, there are sometimes varying levels of licensing, depending on whether an individual is a journeyman, master or contractor. Some states even require apprentices or trainees to have a license if they are doing any hands-on work. A journeyman has less practical experience than a master. More stringent requirements are needed in order to earn a contractor license.
For any technicians that work with or purchase refrigerants, a certification exam must be passed – this is a requirement of the Environmental Protection Agency (EPA). There are three certification areas for refrigerant handling, including servicing small appliances, high pressure refrigerants and low pressure refrigerants. These exams are usually administered by trade schools, unions or contractor associations that are approved by the EPA.
Types of HVAC Exams
There are numerous types of certification and licensing exams offered to HVAC specialists that are administered by various organizations, groups, or state agencies. The EPA requires that anyone handling or purchasing refrigerants be certified. There are different tests required dependent on whether you are servicing building air conditioning and refrigeration systems or those used for an automobile.
Some of the larger organizations that offer certification programs and licensing exams are HVAC Excellence, North American Technician Excellence (NATE), the Refrigeration Service Engineers Society, and the Air Conditioning and Refrigeration Safety Coalition. Trade and technical schools, unions and other organizations may also offer certification exams. States may offer their own licensing exams or have a third party tester administer the tests.
Tests may differ depending on who is offering the test, where it is offered, what specialty the test is related to and the level of licensing (journeyman, master or contractor). The majority are closed book exams, but there are some that are open book. The length of tests, time limits, scoring parameters and fees can also vary widely.
For examples of the types of HVAC certification exams, here is a list of HVAC Excellence certifications:
• Core Exam - Principles of Electrical and Refrigeration Theory (Prerequisite for all exams)
• Residential Air Conditioning
• Light Commercial Air Conditioning
• Light Commercial Refrigeration
• Heat Pump Service
• Heat Pump Installer
• Gas Heat
• Electric Heat
• Residential Heal Load Calculation
• Residential & Light Commercial Hydronic Heat
• Carbon Monoxide Inspection
• Combustion Analysis
• Universal R-410A
• Green Awareness
An HVAC Excellence exam typically consists of 100 questions and the average time allotted to complete an exam is two hours. The written exams are all multiple-choice and are given in both computer-based and paper/pencil format. The exam are given and proctored around the country at various types of locations, like secondary or post-secondary schools, continuing education locations, government workforce development centers and job corp. locations. If an exam is not offered at a local vo-tech or HVACR program location, individuals can contact HVAC Excellence at 1 (800) 394-5268 to obtain information on the nearest testing center. This is just one example of the types of certification exams offered by one organization, but there are many other variations as well.
Since tests vary widely, so do the pre-requisites needed prior to taking the tests. There are usually minimum requirements related to practical experience, education and training. Some certification exams require that a certification program must first be completed. Certain state licensing exams require that a candidate be pre-approved prior to taking an HVAC licensing test.
Interested in becoming an HVAC Technician, Journeyman , Master or Contractor? Check out our HVAC Test Directory.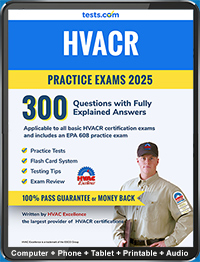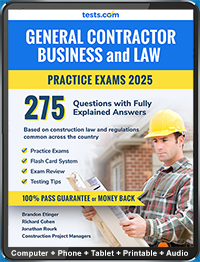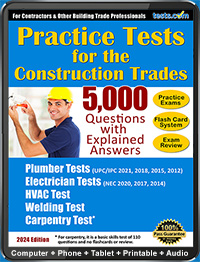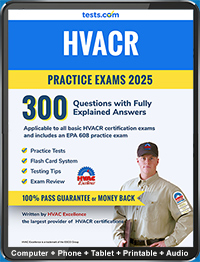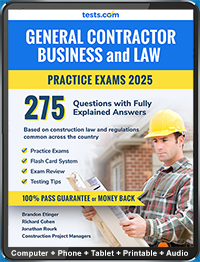 Quality starts with who wrote the material.
Our practice exam writer
s
:
Written by:
HVAC Excellence


The questions are based on industry standards and offer a comprehensive coverage of the fundamental subject matter found on most HVACR certification exams.
The HVACR Practice Test Kit provides:
assessment of broad based HVACR knowledge

practice in the various specialty areas

a good opportunity for practicing test taking skills and learning the subject matter
Summary of Typical HVACR Certification Exams:
What: HVACR exams are part of the certification process for HVACR technicians which identifies the scope and level of a technician's competency in core and specialty areas.
Who: HVACR professionals who wish to become certified in various HVACR specialties

Where: HVACR certification exams are typically administered at various testing centers, schools and other locations throughout the United States.

When: There are various times throughout the year so check with the exam provider for information.

Why: Certification programs improve technical competency and safety allowing technicians to demonstrate competency and earn more money.

Type: Multiple choice, in both computer-based and paper/pencil formats.

Time: Time varies. The average time is 2 hours.

Language: English

Cost: Depending on the subject and organization, it typically costs between $25 - $150 per actual certification exam.