Maine Nursing Assistant / Nurse Aide Guide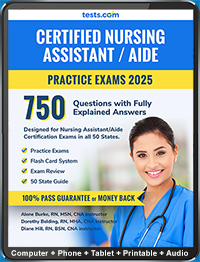 Is a License or Certification needed:
You need to pass a state certified nursing assistant program and the state exam in order to be certified. This must be done in order to work as a nursing assistant in the state of Kansas and be listed on the Maine Nurse Aide Registry.
Who Grants Certification:
The
Maine Department of Licensing and Regulatory Affairs
has contracted with the company, Prometric, to administer state exams to nurse aides in Maine. Once certified, Maine nurse aides are listed on the Maine Nurse Aide Registry. Prometric handles the listing to the registry as well.
The Qualifications to become Certified:
There is more than one route to qualify for registration as a nurses aide in the state of Maine. These include:
You can provide official documents stating that you have completed formal certified nurse aide training that meets the criteria of Maine's Rules and Regulations for immediate placement on the Main Nurse Aide Registry or for completing the Bridge Testing Process.
You have successfully completed an approved 180-hour CNA training course.
How to Apply for Certification and to take the Exam:
In order to apply for the nurse aide registration in Maine, you will need this
application
. You may also email the Main Certified Nurse Aide Registry at
dlrs.cnaregistry@maine.gov
or call them at 624-7300 for copies of the following forms:
Bridge Examination Application form
CNA-M Application form
Reciprocity form
Renewal for
Competency Testing Application form
Certificate of Equivalent Training form
Test Content
The test has two parts, a skills evaluation and a written section. Both parts must be passed to be listed on the Maine State Nurse Aide Registry. The written section is 60 questions in length. You will have 90 minutes to complete the exam. The written exam questions are based on the Maine state approved test plan. You must score a 72% or higher to pass the written exam. Content topics include:
Entering the Health Care and Human Service Fields

Kinds of health care and human service programs available in Maine, the important values held in health care and the scope of career options

Basic Work Skills and Job Maintenance

Your Employee Rights and Responsibilities
Good Work Habits
Prioritizing on the Job
Appropriate Job Conduct and Personal Boundaries
Importance of Self-care

Legal and Ethical Aspects of Care

Key Regulations
Basic Consumer Rights
Legal Status of Consumers
Signs of Abuse
Nurse Aide's Responsibilities in the event of Abuse
Ethics – what it means and how it applies

Communication

Methods
Active Listening
Appropriate Communication
Strategies

Observation, Reporting and Documentation

Requirements
Subjective and Objective
Observation Skills
Good Reporting
Reasons for Documentation
Characteristics of Good Documentation

And more…
The skills evaluation will be performing 7 out of 10 Nurse Aide Tasks correctly.
Certification Renewal and Continuing Education Requirements:
According to Maine law, to renew your license, it is required that you have worked 8 hours at your place of employment in the paid role of a nurse aide during the past 24 months. This must be paid employment, not volunteer work, and in a nursing environment such as a nursing home, home health setting or a hospital.
Details for renewal can be found
here
. The application for renewal can be found
here
.
Contact
ME Registry of Certified Nursing Assistants
ME Department of Human Services
Division of Licensing and Regulatory Services
State House Station #11
41 Anthony Avenue
Augusta, ME 04333
Phone: 800-791-4080, 207-624-7300
Fax: 207-287-9325
______________________________________________________

To prepare for your nursing assistant or nurse aide exam, use Tests.com's Certified Nursing Assistant Exam Practice Test Kit with 300 multiple choice questions, written by nursing experts and educators.
For more information on licensing and exam prep, go to Tests.com's
CNA Test Guide
.
And take Tests.com's free
CNA Practice Test
.
For nursing assistant and nurse aide exam preparation products and services, such as study guides, practice tests, flashcards and courses, go to Tests.com's
CNA
listings.
Quality starts with who wrote the material.
Our practice exam writer
s
:
Alene Burke, RN, MSN

Dorothy Belding, RN, MSH

Diane Hill, RN, BSN
National Nurse Aide Assessment Program (NNAAP) Exam Content Outline Review
I. Physical Care Skills
A. Daily Living Activities:
Hygiene
Dressing and Grooming
Nutrition and Hydration
Elimination
Rest/Sleep/Comfort
B. Skills of Basic Nursing:
Infection Control
Safety/Emergency
Therapeutic/Technical Procedures
Data Collection and Reporting
C. Restorative Skills:
Prevention
Self Care/Independence
II. Psychosocial Care Skills
A. Emotional and Mental Health Needs
B. Spiritual and Cultural Needs
III. Nurse Aide Roles
A. Communication
B. Client Rights
C. Legal and Ethical Behavior
D. Member of the Health Care Team