Michigan Nursing Assistant / Nurse Aide License Guide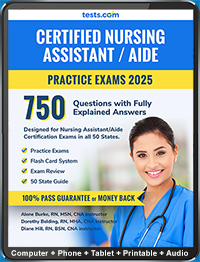 Is a License or Certification needed: To get certified and work as a nursing assistant or nurse aide in Michigan, you need to complete a nursing assistant program and pass a nursing assistant competency exam.
Who Grants Certification: The Michigan Department of Licensing and Regulatory Affairs has contracted with D&S Diversified Technologies to administer state exams to nurse aides in Michigan. Once certified, Michigan nurse aides are listed on the Michigan Nurse Aide Registry.
The Qualifications to become Certified: There is more than one route to qualification for receiving a nurse aide license in Michigan. These include:
You have successfully completed a Michigan state-approved training program
You were previously certified in the state of Michigan, your certification lapsed and you are retaking the test.
You are an RN or LPN student
You were trained or certified in another state.
How to Apply for Certification and to take the Exam: In order to apply for the nurses aide registry in Michigan and apply to take the exam, use the application found here.
Test Content: The test has two parts, a skills evaluation and a written section. Both parts must be passed to be listed on the Michigan Nurse Aide Registry. The written section is 60 questions in length. You will have 90 minutes to complete the exam. Take these with you to the test:
Two number 2 pencils
Your Social Security card
Your driver's license
The written exam questions are based on the Michigan state-approved test plan. You must score 70% or higher to pass the written exam. Content topics include:
Role of the Nurse Aide
Promotion of Safety
Promotion of Function and Health of Residents
Basic Nursing Care Provided by the Nurse Aide
Providing Specialized Care for Residents with Changes in Health
The skills evaluation will be a 31 to 40 minute time period given to complete 5 randomly selected nurse aide skills, depending on the skills assigned. A clinical skills checklist can be found here. You will need to practice these skills. They will not need to be absolutely perfect, but you will need to be deemed competent in these skills.
For the first three skills you will also be tested on the actual process of washing your hands with each skill and for your indirect care of the patient, meaning the parts of care associated with the patients:
Infection Control
Communication with the resident
Rights and preferences
And safety, comfort and needs
You may find further details in this candidate handbook.
Certification Renewal and Continuing Education Requirements: According to Michigan law, in order to be renewed, you must acknowledge proof of employment providing nursing or nursing related services for monetary compensation (for a minimum of 40 hours in the last 24 months).
Beginning March 23, 2024, an attestation must be provided indicating that you had at least 12 hours annually of continuing education within the renewal period. For more information, see the Registry site here.
You can renew your license with the Michigan Nurse Aide Registry here.
Contact
MI Nurse Aide Registry
MI Department of Community Health
Bureau of Health Professions
PO Box 30670
Lansing, MI 48909-8170
Phone: 517-241-0554
Fax: 517-241-9416
To prepare for your nursing assistant or nurse aide exam, use Tests.com's Certified Nursing Assistant Exam Practice Test Kit with 300 multiple choice questions, written by nursing experts and educators.
For more information on licensing and exam prep, go to Tests.com's CNA Test Guide.
And take Tests.com's free CNA Practice Test.
For nursing assistant and nurse aide exam preparation products and services, such as study guides, practice tests, flashcards and courses, go to Tests.com's CNA listings.