UPDATED 2020
Free Fun IQ Test
Top 10 reasons why this is the best, free sample IQ test for you:
1. Completely free - including results!
2. Fun IQ practice test suitable for ages 18+
3. Instantly scored with immediate results
4. Answers fully explained
5. Designed by award-winning educator and educational author, Nile Duppstadt II
6. Anonymous - no tracking to match users to results
7. Questions similar to actual I.Q. test questions, not just trivia
8. Length of test similar to actual I.Q. tests (though some are much longer)
9. Informative questions that convey knowledge
10. Quick I.Q. quiz (only 10-45 minutes needed typically, but take your time)

This is not a normalized IQ test, but it will give you a good idea how you may score on an official IQ test.

What is an IQ test? The IQ test measures a snapshot of a person's mental ability as compared to others of the same age. Some cognitive abilities can be accurately assessed, which is the goal of the IQ test. To measure mental ability legitimately requires standardized and culture-fair questions. Professional IQ tests and those accepted by Mensa, have been screened and validated over many years to be considered reliable instruments. Years of research revealed that high IQ scores are predicators of professional and academic achievement.
This is a sample IQ test meant to provide insight as to the type of thinking skills measured on a real IQ test. The score provided is not a valid IQ score based on a legitimate IQ scale, but rather a percentage based on the number of correct answers and the total number of questions. Answers are fully-explained (unlike most other free IQ tests) when revealed. This example Intelligence Quotient Test includes analogy, anagram, palindrome, serial / sequential reasoning, non-verbal reasoning, inductive reasoning, deductive reasoning, verbal reasoning, spatial visualization, spatial relation, numeric pattern, mathematical reasoning, letter pattern, reading comprehensive, and general world knowledge problems.
You may begin your IQ test below. Have fun and good luck!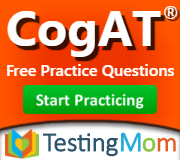 The Cognitive Abilities Test, or CogAT evaluates a child's problem solving and reasoning skills using quantitative, verbal and non-verbal cues. The group-administered test is given to students in grades K-12 and is often used to select students for Gifted and Talented Education programs. The test can also be used to predict future learning abilities and to place students in advanced classes. The lead author of the CogAT is Dr. David F. Lohman, Professor of Educational Psychology at the University of Iowa. Dr. Lohman received his doctorate in educational psychology from Stanford University in 1979. He has authored numerous papers and presented a large body of influencial ideas including An Aptitude Perspective on Talent Identification and Development. In 2007, The National Association for Gifted Children named Dr. Lohman as winner of their Distinguished Scholar award. Learn more about the CogAT from our CogAT Test Guide.