2020 Edition
NBDHE Dental Hygienist Certification Test
This Free NBDHE Certification Practice Test will give you an idea of the types of questions and sections on your actual exam.
The NBDHE assists state boards in qualifying dental hygienists who seek licensure in their jurisdiction. The exam assesses a hygienist's ability to understand relevant information including basic biomedical, dental and dental hygiene sciences and the ability to apply the information into a problem-solving context.
When you are ready to start studying and get certified, use our NBDHE Practice Exam Kit with 750 questions and fully explained answers, including 20 Patient Case Testlets.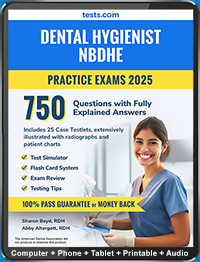 Dental hygienists must have an associate's degree and pass a licensing exam to be able to practice dental hygiene in their state. The National Board Dental Hygiene Exam is a nationwide, nine-hour exam that, when passed, gives hygienists the credential needed to work in a dental office. For more on this exam, please read our National Board Dental Hygiene Exam Guide.