2020 Edition
TEAS VI Practice Test

Take this free practice test to see what type of questions are on the Test of Essential Academic Skills VI (TEAS VI). The TEAS VI is used as an admission exam for nursing schools. It covers such subjects as science, math, English and reading comprehension.

To help pass the actual TEAS VI check out the 1,250 question TEAS VI Practice Test.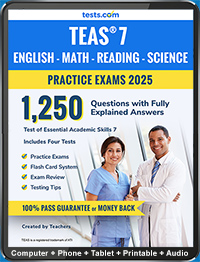 The Test of Essential Academic Skills, or TEAS, is used as an entrance examination for candidates applying for admission to nursing school. The exam covers content taught in high school and measures a student's general academic knowledge and aptitude. For more on the TEAS VI, please see our TEAS V Test Guide.