NCLEX-RN
Practice and prepare for the NCLEX-RN with resources to become a licensed registered nurse: certification information, study guides, NCLEX-RN practice tests, courses and more. To become licensed as a registered nurse, a nurse will have to take the NCLEX-RN exam.
NCLEX-RN Review
- expert from The NCLEX-RN Practice Exam by MEG BRANNAGAN, RN, BSN, Nurse Curriculum Writer
You have finished nursing school. Your clinical requirements are complete and you are ready to graduate. Congratulations on achieving this significant event! There is just one more thing you need to do before you can practice as a registered nurse: pass your licensure exam. The National Council Licensure Examination for Registered Nurses (NCLEX-RN) is a test that measures your knowledge and competence to perform the required duties of an entry-level registered nurse.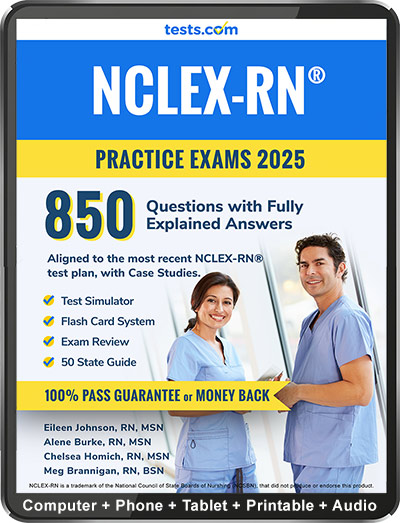 The NCLEX; is developed through the National Council of State Boards of Nursing (NCSBN), which works to regulate nursing care throughout the individual boards of nursing in the United States. Although you will work under the jurisdiction of your state board of nursing where you will practice, the NCSBN works with individual states to standardize testing for registered nurse candidates.
The NCLEX questions are written based on information gathered through analyzing the practices of entry-level registered nurses. The exam questions are then formulated by registered nurses with advanced education and training. The purpose of the exam is to assess your knowledge and understanding of the nursing process, your critical thinking skills and how you apply appropriate safety measures. The exam questions are designed to thoroughly test these factors by using questions to measure your general knowledge of nursing concepts as well as provide scenarios that will require you to consider what to do next. Additionally, the questions will contain certain aspects of nursing that are beyond just the technical skill requirements or knowledge background. Many questions will also incorporate concepts such as caring, client education, communication with others, documentation of work, and knowledge of the nursing process.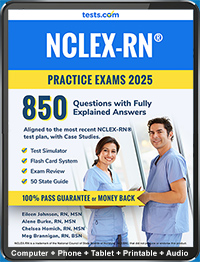 Quality starts with who wrote the material.
Our practice exam writer
s
:
Eileen Johnson, RN, MSN

Alene Burke, RN, MSN

Chelsea Homich, RN, MSN

Meg Brannagan, RN, BSN