Radiography Test
Find resources to work in the field of radiography, with radiography study guies, radiography practice tests and more. Radiographers may seek certification through such organizations as the American Registry of Radiologic Technologists. For more information, see Tests.com's Radiography Test Guide.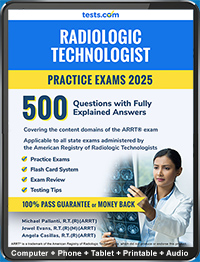 Quality starts with who wrote the material.
Our practice exam writer
s
:
Michael Pallanti, R.T.(R)(ARRT),
Jewell Evans, R.T.(R)(M)(ARRT),

Angela Casillas, R.T.(R)(ARRT),
OUR PRACTICE EXAM COVERS THE ACTUAL ARRT DOMAINS:
The ARRT certification exam contains 220 multiple-choice questions. A test taker is give 3.5 hours to complete the exam and a score of 75 is needed to pass.
Below are the four domains tested by the ARRT:
• Patient Care
• Safety
• Image Production
• Procedures