2023 Edition
Radiology Tech Practice Test
Try this free radiology tech practice test
to see what's on a licensing or certification exam for x-ray techs.
Most states require that a radiographer be certified or licensed. The American Registry of Radiologic Technologists (ARRT) certifies and registers radiology technologists and administers the required exams. The exam to become certified as a radiologist tech has 220 multiple choice questions and you are given three and a half hours to complete the exam. The exam covers the following subjects: patient care; safety; image production and procedures.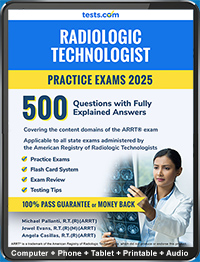 Quality starts with who wrote the material.
Our practice exam writer
s
:
Michael Pallanti, R.T.(R)(ARRT),
Jewell Evans, R.T.(R)(M)(ARRT),

Angela Casillas, R.T.(R)(ARRT),
OUR PRACTICE EXAM COVERS THE ACTUAL ARRT DOMAINS:
The ARRT certification exam contains 220 multiple-choice questions. A test taker is give 3.5 hours to complete the exam and a score of 75 is needed to pass.
Below are the four domains tested by the ARRT:
• Patient Care
• Safety
• Image Production
• Procedures