Stanford-Binet Intelligence Scale®
Test Preparation
Stanford-Binet test prep resources including Stanford-Binet Practice Tests, testing guides and more. The Stanford-Binet is used to assess students with learning disabilities and special educational needs.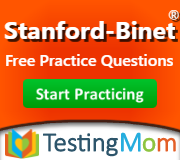 The Stanford-Binet Intelligence Scales is a cognitive ability test that is used to assess student intelligence and students' strengths and weaknesses as part of an evaluation for early learning disabilities and special education referral. The test can be used to identify learning disabilities that are already developed or those that are emerging and can be used to discover both reading and math disabilities. The test may also be used to identify children with high intelligence abilities. To learn more about the Stanford-Binet test, see our Stanford-Binet Intelligence Scales Guide.