UPDATED 2020
Stanford-Binet Practice Test
Try these free Stanford-Binet

IV and V (SB-4 and SB-5)

p

ractice questions and answers with instant scoring.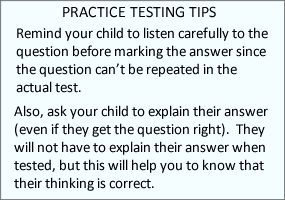 Instant Scoring in this practice test is broken down by grade level so you have a choice of doing all the questions or just the grade level that is applicable to your child.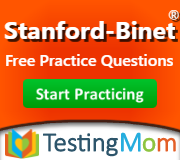 The Stanford-Binet Intelligence Scales is a cognitive ability test that is used to assess student intelligence and students' strengths and weaknesses as part of an evaluation for early learning disabilities and special education referral. The test can be used to identify learning disabilities that are already developed or those that are emerging and can be used to discover both reading and math disabilities. The test may also be used to identify children with high intelligence abilities. To learn more about the Stanford-Binet test, see our Stanford-Binet Intelligence Scales Guide.