2023 Edition
CCRN Practice Test
Take this free CCRN practice test to get a sample of the types of questions on the actual Critical Care Registered Nurse certification exam.
The CCRN exam is a 3 hour exam covering 150 multiple choice questions. The CCRN exams focus on three general populations: adult, pediatric and neonatal patients. Within the three general populations, the following subject categories are covered: Cardiovascular, Respiratory, Endocrine, Hematology / Immunity, Neurology, Gastrointestinal, Renal, Multisystem, Mental Health and Professional Care and Ethical Practice. Each exam is age specific and a large percentage of each test focuses on clinical judgment. A smaller percentage of each test covers professional caring and ethical practice, which can address any age in the life span, in any of the tests.
For complete practice, check out the CCRN Practice Exam Kit with 750 questions and fully explained answers. CCRN FAQ's V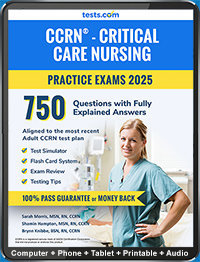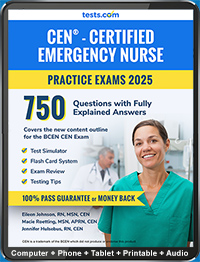 Quality starts with who wrote the material.
Our practice exam writer
s
:
Sarah Morris

Brynn Knibbe

Shamin Hampton

Sue Montgomery