Critical Care Nurse Test - CCRN®
Find resources to prepare for the CCRN, with certification informaiton, CCRN study guides, CCRN practice tests, courses and more. To become certified to work with acutely and critically ill patients of all ages, a nurse will have to take the CCRN Test. The CCRN Test is published by the American Association of Critical-care Nurses. For more information, see Tests.com's CCRN Test Guide.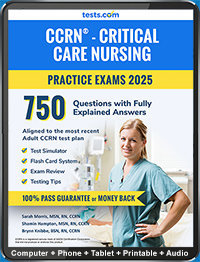 The CCRN exam gives registered nurses a credential which demonstrates that they are specially qualified to work with acutely and critically ill infants, children and adults. The exam is available at more than 300 PSI/AMP testing locations in the United States. To learn more about the exam, read our CCRN Test Guide.