2024 Edition
Dental Assistant Practice Exam
Try our free Dental Assistant Practice Exam below. Your results will be scored automatically and will display your strengths and weaknesses.
Dental assisting certification is for those who have met their state dental assisting educational requirements and passed an exam. This certification is required by 29 states and recognized by 38 states including the District of Columbia. The actual exam consists of three sections - General Chairside Assistance, Infection Control and Dental Radiography - with a total of 255 multiple-choice questions. Total exam time is limited to three hours and fifteen minutes.
For complete study, check out our 750 question Practice Exam Kit for the Certified Dental Assistant Exam.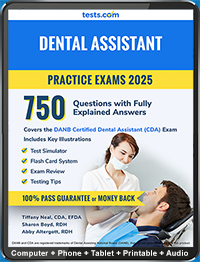 Quality starts with who wrote the material.
Our practice exam writer
s
:
Tiffany Neal, CDA (DANB), EFDA

Sharon Boyd, RDH

Abby Altergott, RDH
Our practice exam follows the CDA blueprint component exam areas: GC, RHS & ICE:
1. General Chairside Assisting (GC)

GC Exam Blueprint:
Evaluation

Patient Managemnt and Administration

Chairside Dentistry

Dental Materials
GC Exam Summary:
95 multiple-choice questions

75 minutes testing time

2. Radiation Health and Safety (RHS)

RHS Exam Blueprint:
Purpose and Technique

Radiation Safety

Infection Control
RHS Exam Summary:
80 multiple-choice questions

1 hour testing time

3. Infection Control (ICE)

ICE Exam Blueprint:
Prevent of Disease Transmission
Prevention of Cross-contamination
Process of Instruments and Devices
Occupational Safety and Admin Protocols
ICE Exam Summary:
80 multiple-choice questions

1 hour testing time