2020 Edition
Dental Assistant Practice Exam
Try our free Dental Assistant Practice Exam below. Your results will be scored automatically and will display your strengths and weaknesses.
Dental assisting certification is for those who have met their state dental assisting educational requirements and passed an exam. This certification is required by 29 states and recognized by 38 states including the District of Columbia. The actual exam consists of three sections - General Chairside Assistance, Infection Control and Dental Radiography - with a total of 320 multiple-choice questions. Total exam time is limited to four hours.
For complete study, check out our 750 question Practice Exam Kit for the Certified Dental Assistant Exam.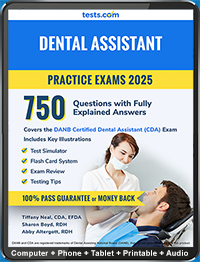 The Dental Assisting National Board exam is required of dental assistants in some states for licensure. The exam is a multiple choice exam offered via computer and is available year round. To learn more about the Certified Dental Assistant exam, read The Guide to Dental Assistants Exams and our Interview with Zoe Najim.