2023 Edition
Life & Health Insurance Agent Certification Test
A free Life & Health Insurance Practice Test to help you prepare..... To get certified or licensed to sell life and health insurance as an agent, a candidate has to pass a state licensing exam offered by a state licensing board. Certification as a life and health insurance agent requires passing an exam and meeting other educational requirements.
To prepare for your licensing exam, use the full-length Life & Health Insurance Agent Practice Exam with answers fully explained for ideal study.
The practice exam is written by Susan Wright, CLU, ChFC, RHU, REBC, CSA, CLTC, CCFC, CSS, who has over 20 years of experience in the insurance industry.
The following practice exam is a sample from the full-length test.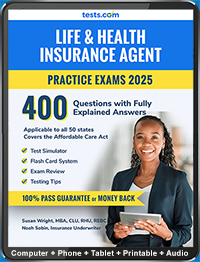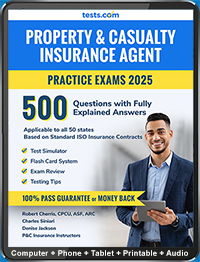 Quality starts with who wrote the material.
Our practice exam writer
s
:
Robert Cherris, CPU, ASF, ARC
Our practice exam covers property and casualty insurance exam subjects that are common across the country and is not specific to any one state but rather applicable to all states. Our exam is based on ISO standard policies. It covers all of the following areas which are typically covered in your actual state Property & Casualty Insurance examination:
General insurance

Insurance regulation

Homeowners insurance

Commercial policies

Automobile insurance

Inland Marine policies

Flood Insurance

Professional Liability

Workers Compensation

Policy Provisions

Contracts

And more...