2023 Edition
NCE Practice Exam
Take this free NCE Practice Exam to see the types of questions and sections that appear on the actual National Counselor Exam. The NCE tests a candidate's understanding of basic counseling concepts in the areas of human development, fundamental counseling techniques, appraisal, ethics, research, group counseling and career development counseling. To prepare for your test, use our 800 question NCE Practice Exams Plus that includes online flash cards, exam review and 50 state guide.

For more free practice questions, try our other NCE Practice Test.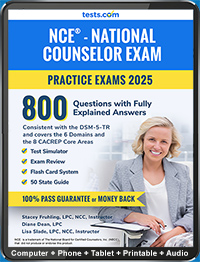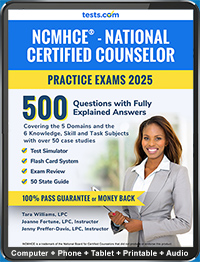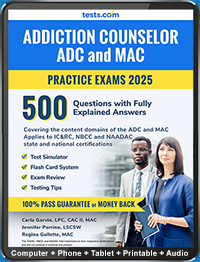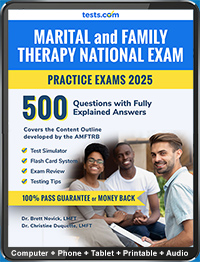 Quality starts with who wrote the material.
Our practice exam writer
s
:
Diane Dean, LPC, RN-BC, MA,

Stacy Fruhling, LCPC, LCADC, NCC, MAC,

Lisa Slade, MS, LPC, NCC,
OUR PRACTICE EXAM COVERS THE ACTUAL NCE DOMAINS:
The NCE contains 200 multiple-choice, non-sectioned questions. There are different versions of the test. Test questions come from a pool of questions that have been extensively reviewed and researched for content accuracy and clarity.
Below are the six domains tested by the NBCC on the NCE:
• Professional Practice & Ethics
• Intake Assessment and Diagnosis
• Areas of Clinical Focus
• Treatment Planning
• Counseling Skills and Interventions
• Core Counseling Attributes

Covering the eight CACREP Common Core Areas::
• Professional Counseling Orientation and Ethical Practice
• Social and Cultural Diversity
• Human Growth and Development
• Career Development
• Counseling and Helping Relationships
• Group Counseling and Group Work
• Assessment and Testing
• Research and Program Evaluation