2020 Edition
Postal Service Practice Test
Take this free practice test to see how prepared you are for the United States Postal Service 473 Exam for mail carriers, mail handlers and other entry-level positions. The test covers such subjects as address checking, forms completion, coding and memory skills.
To score high and improve your chances to get the job, use this 1000 question U.S. Postal Service Practice Exam and Study Guide.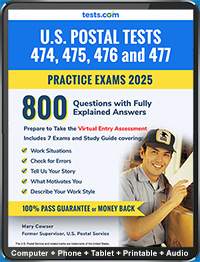 Entry-level candidates seeking employment with the United States Postal Service must take the 473 Exam. It evaluates one's general aptitudes and personal characteristics, not knowledge of postal subjects. To learn more about the USPS 473 Exam, see the Postal Service Exam Guide.