2023 Edition
Real Estate Broker Practice Test
This free practice test will give you an idea of the types of questions that will appear on a real estate broker licensing exam. All states require real estate brokers to take an exam to get licensed. Such subjects as operation of a brokerage, contract law and agency concepts will be tested.
This practice exam was written by Karen Bohler and Tabitha May Hasin, who are both real estate instructors.

For a more comprehensive coverage of the subject, use our 300 question Real Estate Broker Practice Exam with answers fully explained, testing tips, exam review and a real estate broker flash card study system.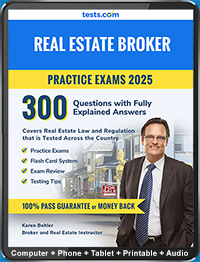 Quality starts with who wrote the material.
Our practice exam writer
s
:
Written by:
Karen Bohler
Real Estate Broker and Instructor