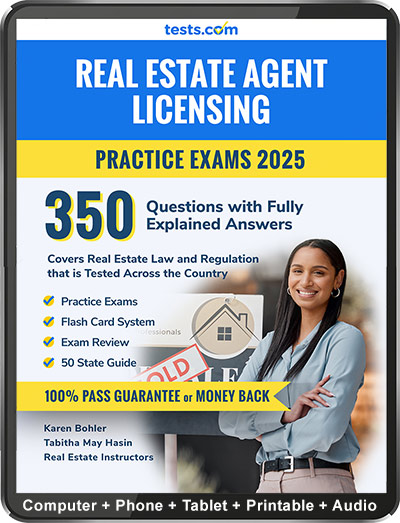 Pass your Real Estate Agent License Exam —guaranteed or your money back. Our expert-written Real Estate practice material covers actual exam topics with fully explained answers.

Prepare for success! Practice challenging questions you won't find anywhere else.

Take unlimited tests on your computer, phone or tablet. Includes free new question updates and complements any other study materials.

Get BOTH Formats Instantly:
Online—Instant scoring, review & reporting.
Printable—Instant download.
List $59.90
$29.95
SAVE 50%
No Time Limit. No Recurring Charges.
Satisfaction Guaranteed or Money Back

TESTIMONIALS
"Some practice exams have over two thousand questions which makes things much more complicated and discouraging... I've spent lots of money on practice exams and study guides only to find myself "overwhelmed" with questions and topics I've never heard of! I've taken the practice exam on this site and discovered that these questions are the closest to what I've learned in school." - Milton T.
"I appreciate the customer service, it has been excellent and greatly appreciated." - Caitlin K.
"I want to let you know that I took my test today, and passed it. Thank you for the help." - Patricia N.
"I have & will continue to refer your testing service to people... I appreciate your diligence and the fact that you cared enough to contact me again... Your customer service & dedication to your customers is what has obviously kept you successful." - Hope
"I RECENTLY PURCHASED THE ALABAMA REAL ESTATE EXAM PREP. I WANT YOU TO KNOW YOUR EXAM PREP is ONE OF THE BEST I HAVE SEEN" - Jenny
"I appreciate your outstanding customer service!" - Tracy P
Online Payment Service