UPDATED 2020
TerraNova Practice Test
Try these

p

ractice questions and answers for the TerraNova with instant scoring. Get better prepared for the actual TerraNova.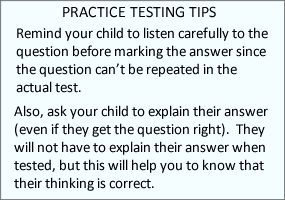 TerraNova is a series of achievement tests to measure K-12 student achievement in math, reading, language arts, science, social studies, spelling, vocabulary and more.
Instant Scoring in this practice test is broken down by grade level so you have a choice of doing all the questions or just the grade level that is applicable to your child.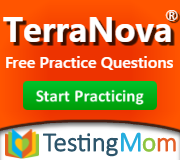 The TerraNova is a standardized test that assesses students in kindergarten through the twelfth grade. Three versions of the test are available, including Multiple Assessments, Complete Battery and Survey. TerraNova tests are used to determine if students are performing at, below or higher than grade level. To learn more about the TerraNova Test, see our TerraNova Test Guide.