2020 Edition
General Contractor Practice Test
Try this free general contractor practice exam to get an idea of what type of questions are on an actual contractor's licensing exam.

Many states require building contractors to be licensed. To get licensed, you may need to take a business and law exam, as well as a trade exam. The trade portion of the exam will cover subjects such as plan reading and estimating, site engineering, sitework and excavation, footings and foundations, concrete, masonry, carpentry, metals and safety.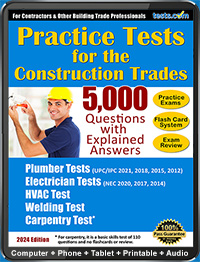 Quality starts with who wrote the material.
Our practice exam writer
s
:
Ray Holder

Dodge Woodson

Charles Redecker

Terry Lunt

HVAC Professionals

Edward Bohnart

John Howley, Jr.