Life and Health Insurance Sales Exam
Find insurance sales training and testing resources such as practice tests, study guides and courses. Certification in life and health insurance sales demonstrates one's knowledge and competence in the field. For more information, see Tests.com's Life and Health Insurance Sales Test Guide.
Review of Life & Health Insurance Agent Practice Exams
Each of the 50 states has its own specific insurance licensing and testing functions, and all require some amount of pre-licensing education. Different lines of insurance are tested separately, therefore the passing of the Life & Health Insurance exam will only allow an agent to offer and sell life and health insurance related products.
A life and health insurance license will typically allow an agent to offer and sell the following products to their clients:
Term life insurance
Whole life insurance (except variable life policies)
Universal life insurance
Individual and group health insurance
Sickness and accident policies
Disability insurance
Long-term care insurance (certain states may require additional education and testing)
Medicare Supplement insurance
Fixed annuities
Life & Health Insurance Exam Testing Methods
The Life & Health Insurance licensing exams will differ from state to state. Typically, an exam will consist of 150 multiple choice questions. It is common these days that the exam will be given by computer at qualified testing centers throughout a proposed licensee's state.
Some common question formats a test candidate will face will be questions formatted as direct questions, as well as incomplete sentences that require the test taker to fill in the blank, options for choosing "all of the following EXCEPT," and scenarios whereby the test taker must choose the best answer to fit into a particular situation.
Examples of questions that may be seen on a Life & Health Insurance agent licensing exam include:
1. Some of the ways in which the death benefit proceeds from a life insurance policy may be used by one's beneficiary include the following:
a. Paying off a mortgage
b. Funding a child's future education costs
c. Paying ongoing bills such as utilities and food
d. All of the above
2. All of the following are activities that are included in the definition of transacting insurance EXCEPT:
I. Soliciting the purchase of insurance
II. Doing preliminary negotiations for an insurance purchase
III. Issuing an insurance contract
IV. Providing service to a policy holder
a. IV only
b. I and IV
c. All of the above
d. None of the above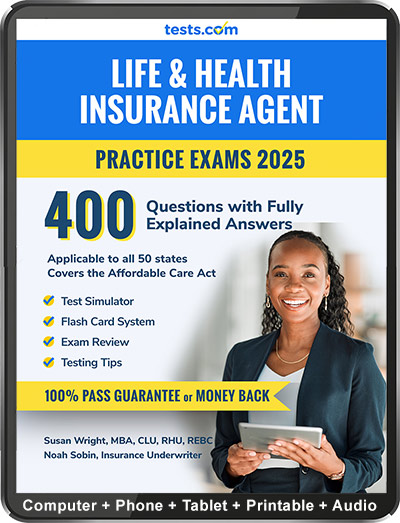 In order to pass a Life & Health Insurance examination, candidates typically must receive a score of at least 70%. Test scores are usually provided immediately after the student completes the exam, along with a summary of how many questions the students correctly answered and the percentage of correct answers that were attained by the test taker in each of the exam topics.
If a student does not initially pass a Life & Health Insurance exam, they will be allowed to re-take the test at a later time. In order to do so, the individual must schedule to take the test again with an appropriate testing center. There may be an additional fee required in order to do so.
The following areas are typically covered in a Life & Health Insurance examination. The topics include:
· General insurance
· Insurance regulation
· Life insurance basics
· Life insurance policies
· Life insurance policy provisions, options, and riders
· Annuities
· Federal tax considerations for life insurance and annuities
· Qualified plans
· Health Insurance basics
· Individual health insurance policy general provisions
· Disability income and related insurance
· Medical plans
· Health maintenance organizations
· Group health insurance
· Dental insurance
· Insurance for special needs individuals and senior citizens
· Federal tax considerations for health insurance
The Tests.com practice exam covers these subject areas and more. The test has been designed to prepare the test candidate on the laws and regulations that generally apply throughout the country. Your state exam may base some questions on laws or regulations that are unique to that state. It is important to obtain the candidate handbook for your state exam and understand what areas will be tested and to keep in mind any variation on the law in respect to generally applicable principles.