Alabama Plumbing Exam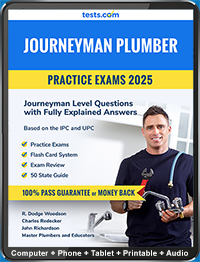 The Alabama Plumbing License Exam covers many topics including: Vents & Venting; Administrative Procedures; Fixtures; Drainage Systems and more. Whether you live in Mobile, Montgomery, Birmingham or another city or county, the resources below will help you get started:

Prepare to Pass the Actual Plumbing Exam:
600 Plumber Exam Questions, Flash Cards, and Testing Tips


Need of a License: Journeyman and master plumbers need a license to work in Alabama.
Who Grants a License: The plumbing trade is regulated by the Alabama Plumbers and Gas Fitters Examining Board.
Procedures for Getting a License: A candidate must take an exam to obtain either a journeyman or master plumbing license.
How to Apply for the Test: To apply to take the journeyman or master plumber exams, contact the following:


Alabama Plumbers and Gas Fitters Examining Board
216 Aquanus Drive, Suite 319
Homewood, AL 35209
For more information call (205) 945-4857.
Test Content: The journeyman and master plumbing exams have the following content and specifications:
Journeyman - 70 questions, 3 hours in duration, open book
Master - 100 questions, 4 hours in duration, open book
Fees: There are fees to take the test.
Qualifications to take the Exam and receive a License: A candidate for journeyman plumber must have at least 2 years registered as an apprentice or completed a Board approved apprentice training program. A candidate for master plumber must have had a journeyman plumbing license for at least 1 year.
Who Administers the Test: PSI Services, LLC
License Renewal: Licenses must be renewed each year by December 31st. There is no continuing education requirement.
Applicable Code: Alabama follows the International Plumbing Code established by the International Code Council.
______________________________________________________
For more information on licensing and exam preparation, go to Tests.com's
Journeyman Plumbing Test Guide
And take Tests.com's Plumbing Practice Test.

Prepare to Pass the Actual Plumbing Exam:
600 Plumber Exam Questions, Flash Cards, and Testing Tips