Alaska Plumbing Exams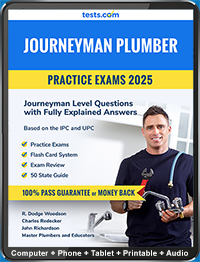 The Alaska Plumbing License Exam covers many topics including: Vents & Venting; Administrative Procedures; Fixtures; Drainage Systems and more. Whether you live in Anchorage, Fairbanks, Juneau or another city or county, the resources below will help you get started:

Prepare to Pass the Actual Plumbing Exam:
600 Plumber Exam Questions, Flash Cards, and Testing Tips

Need of a License: A journeyman plumber needs a license to work in Alaska.
Who Grants a License: Plumbing licenses are issued by the Alaska Department of Labor and Workforce Development.
Procedures for Getting a License: A candidate for a journeyman plumbing license must take and pass an exam.
Test Content: The journeyman test has the following content and specifications:
4 hour time limit, open and closed book, 70% needed to pass
Qualifications to take the Exam and receive a License: A candidate for journeyman plumber must have at least 8,000 hours of experience under the UPC in commercial/residential plumbing. Up to 1,000 hours of trade related classroom training may be substituted for time in the field. Here is an application for certificate of fitnes.
License Renewal: Certificates of Fitness must be obtained every other year. There is no continuing education requirement.
Applicable Code: Alaska follows the Uniform Plumbing Code established by the International Association of Plumbing and Mechanical Officials.
______________________________________________________
For more information on licensing and exam preparation, go to Tests.com's
Journeyman Plumbing Test Guide
And take Tests.com's Plumbing Practice Test.

Prepare to Pass the Actual Plumbing Exam:
600 Plumber Exam Questions, Flash Cards, and Testing Tips