Delaware Plumbing Exams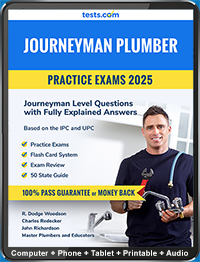 To become a master plumber in Delaware, you will need a license and may need to take an exam. Whether you live in Wilmington or Dover, or another city and county, the resources below will help you get started on your path to receive your master plumber license.

Prepare to Pass the Actual Plumbing Exam:
600 Plumber Exam Questions, Flash Cards, and Testing Tips

Need of a License: Master plumbers need a license to work in Delaware.
Who Grants a License: Plumbing licenses are issued by the Delaware Division of Professional Regulation, Board of Plumbing and HVACR.
Procedures for Getting a License: Candidates for master plumber licenses must submit an application for master plumber licensure. Plumbers can either apply by reciprocity or by examination.
Test Content: The exam for master plumbers is given by Prometric. Prometric's master plumber exam comes in two parts, one for business and law and the other section on trade knowledge. The exams are open book with limited reference materials permitted. The business and law section has 50 questions with a two hour time limit covering subjects such as estimating and bidding, safety/OSHA and tax laws.
The master plumber technical exam has 100 questions and a 4 hour time limit. The master exam covers the following subject areas with the corresponding number of questions:
General Knowledge - 18
General Regulations - 26
Plumbing Fixtures - 6
Water Supply Systems - 10
Drainage, Waste and Sanitary Vents - 18
Indirect Waste - 4
Roof Drain Piping - 3
Specialty Plumbing - 5
Isometric Analysis – 10
License Renewal: Licenses must be renewed every other even year. There is no continuing education requirement.
Applicable Code: Delaware follows the IPC established by the International Code Council.
______________________________________________________
For more information on licensing and exam preparation, go to Tests.com's
Journeyman Plumbing Test Guide
And take Tests.com's Plumbing Practice Test.
Prepare to Pass the Actual Plumbing Exam:
600 Plumber Exam Questions, Flash Cards, and Testing Tips