UPDATED 2021
The Dietician Test Guide
The Dietician Test Summary
What:
Exams that test knowledge of the dietary and nutritional field.
Who:
Experienced or trained professionals.
Where:
Tests are available at colleges and universities and ACT Testing Centers.
When:
The dietician's exam is offered year round, while the CDM is offered in October and March.
How:
Multiple choice and essay.
Type:
Computer and paper exams.
Why:
Passing these exams offers a distinguishing mark of credibility.
Time:
3-4 hours.
Language:
English.
Preparation:
Students are advised to study.
Cost:
Ranges from $100 to $280, depending on the exam.
by Kara Arnold, Tests.com Contributing Writer

Dietary professionals can earn certification in their field through two examinations: the Registration Examination for Dieticians and the Certified Dietary Manager and Certified Food Protection Professional Certification Exam.

Registration Examination for Dieticians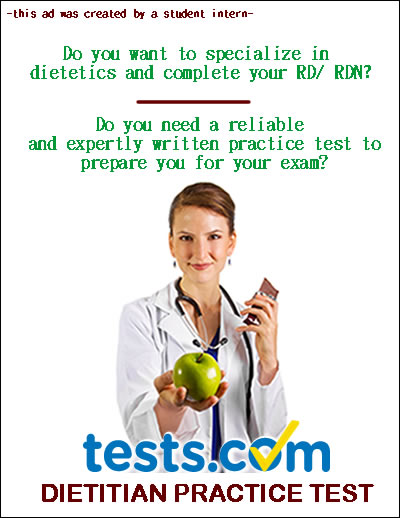 Registered dietitians work in health care facilities, sports nutrition and corporate wellness programs, universities and medical centers, research programs and more. To be considered a registered dietician, candidates must earn a bachelor's degree from a program accredited by the Commission on Accreditation for Dietetics Education and then complete the Registration Examination for Dieticians, offered by the Commission on Dietetic Registration (CDR).

The computer-based exam evaluates the candidate's ability to perform at an entry-level position. Test lengths vary; each test taker will receive a minimum of 125 questions (100 scored and 25 unscored pretest questions), while the maximum number of possible questions is 145 (120 scored and 25 unscored pretest questions). Test takers have two and a half hours to complete the exam, and a half hour to complete an introductory tutorial.

Exam questions are multiple-choice and cover:
Food and nutrition, including food science, food safety, nutrient composition of foods, nutrition and supporting sciences
Clinical and community nutrition, including nutrition screening and assessment, normal nutrition, health and disease prevention and medical nutrition therapy
Education and research, including counseling, education and training and research
Food and nutrition systems, including menu planning, purchasing, production, distribution and service, safety and sanitation and facility planning
Management, including human resources, finance and materials, marketing products and services, functions and characteristics and quality improvement


The Registration Examination is administered year-round by ACT Inc., which administers the exam at over 225 sites nationwide. Test sites are open Monday through Friday, while some are also open on Saturdays.

Dieticians are assessed a $200 application fee, while dietetic technicians will pay a $120 exam application fee. After applying for the exam, eligible candidates will be given a toll-free number to schedule an appointment and will receive the most updated test center listing during registration.

Candidates will receive their scaled score, scaled sub-scores and the scaled score as they leave the testing center. Test takers must score at least 25 of 50 to pass. Those that fail may retake the exam 45 days after taking the exam by contacting CDR to gain reauthorization and pay the examination application fee. There is no limit to reexamination as long as the test taker waits 45 days between test dates.

Certified Dietary Manager, Certified Food Protection Professional Certification Exam
A Certified Dietary Manager, Certified Food Protection Professional (CDM, CFPP) is responsible for supervising, disciplining and terminating employees; calculating nutrient intake; identifying nutrition concerns; and making referrals and documenting nutritional screening data in a medical record. To earn the CDM, CFPP credential, one must pass the CDM, CFPP Certification Exam.

A candidate qualifies to take the exam by:
Finishing a DMA-approved dietary manager training program
Obtaining a two-year or four-year degree in foodservice management, nutrition or culinary arts
Combining training and experience, OR
Completing related military training

Candidates may call DMA to find out if they qualify for the exam by calling 800-323-1908.

The exam includes questions on:
Gathering nutrition data
Applying nutrition data
Providing food services
Providing nutrition education
Hiring and supervising
Developing personnel and communications
Professional interaction
Managing supplies, equipment use, sanitation and safety
Managing production
Managing business operations

The paper-based exam is offered in English twice annually in most US states on the last Saturday of October and the last Saturday of March. Applicants must have their applications postmarked by August 15 if taking the exam in October or January 15 if taking the exam in March. Test locations vary.

DMA members are assessed a $170 exam fee, while non-members pay $280 for the exam. The exam lasts about four hours.

Answer sheets are scored by computer on a pass/fail basis. ACT Inc. mails the exam results about six weeks after the exam day.

After passing the exam, candidates can apply for certified status, which involves maintaining status with continued education and paying an annual certification fee ($100 for DMA members and $200 for non-members).

Getting ready for the Registered Dietitian or Certified Dietary Manager exam? Take a look at our Dietician Test Directory.