Maryland Plumbing Exams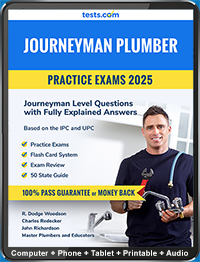 The Maryland Plumbing License Exam covers many topics including: Vents & Venting; Administrative Procedures; Fixtures; Drainage Systems and more. Whether you live in Baltimore, Annapolis, Cumberland or another city or county, the resources below will help you get started:

Prepare to Pass the Actual Plumbing Exam:
600 Plumber Exam Questions, Flash Cards, and Testing Tips

Need of a License: Journeyman and master plumbers need a license to work in Maryland.
Who Grants a License: Plumbing licenses are issued by the Maryland Department of Labor, Licensing and Regulation (DLLR).
Procedures for Getting a License: A candidate for a journeyman or a master plumbing license must take and pass a written exam. Exams are given weekly in Baltimore, College Park, Salisbury and Hagerstown.
Qualifications to take the Journeyman Plumber Exam and receive a License: A candidate must have held an apprentice license for at least 4 years, completed 7,500 hours of training under the supervision of a master plumber and completed 32 hours in backflow prevention device testing.
Qualifications to take the Master Plumber Exam and receive a License: A candidate must have held a journeyman license for at 2 years and must have completed 3,700 hours of training under a licensed master plumber.
Who Administers the Test: PSI Examination Services
How to Apply for the Exam: To apply to take the exams, contact the following:
PSI Examination Services
100 West Broadway, Suite 1100
Glendale, CA 91210-1202
800-733-9267
Fees: There are fees to take the test.
License Renewal: Licenses must be renewed every two years. There is no continuing education requirement.
Applicable Code: Maryland has adopted the International Plumbing Code developed by the International Code Council and local municipalities may use different editions.
______________________________________________________
For more information on licensing and exam preparation, go to Tests.com's
Journeyman Plumbing Test Guide
And take Tests.com's Plumbing Practice Test.

Prepare to Pass the Actual Plumbing Exam:
600 Plumber Exam Questions, Flash Cards, and Testing Tips