2022 Edition
Medical Assistant Test Guide
A medical assistant is an important part of a heathcare team who is qualified by education and experience to work in a variety of postions in the healthcare field. Medical assistants help deliver care in such settings as the examining room, medical laboratories and the administrative office. Patients often first discuss their issues with a medical assistant and the medical assistant plays an important role in the delivery of care.

Except for some specialty areas of practice, there is no general state requirement for licensure for medical assistants in the United States. However, medical assistants looking for work may find it difficult without a professional credential. Employers typically look to hire those who have taken the step to obtain a professional credential. There are a number of organizations that offer credentialling in the field of medical assisting. Four such organizations are:

1. Certifying Board of the American Association of Medical Assistants (AAMA) which offers the Certified Medical Assistant (CMA) credential
2. American Medical Technologists (AMT) which offers the Registered Medical Assistant (RMA) credential.
3. National Center for Competency Testing (NCCT) which offers the National Certified Medical Assistant (NCMA) credential.
4. National Healthcareer Association which offers the Clinical Medical Assistant Certification (CCMA).

Candidates will have to take an exam to obtain these credentials.

CMA (AAMA)
The Certified Medical Assistant (CMA) credential is a professional marker of distinction, one that demonstrates to employers and colleagues that a medical assistant adheres to a stringent set of professional medical assistant standards. The credential and exam are administered by the AAMA in consultation with the National Board of Medical Examiners.
The CMA credential is voluntary, though many medical assistants find that individual employers require it prior to making an offer of employment.
The exam is a computer-based test that is comprised of 200 multiple-choice questions. Questions are given in four 40-minute segments with an optional 20 minutes of break time that may be used in between segments. A total of three hours and 15 minutes is allotted for the test.
Exam topics include:
· Anatomy and physiology
· Collecting, processing and testing of specimens
· Communication
· Computer concepts
· Data entry
· Emergencies
· Equipment
· First aid
· Maintaining the office environment
· Medical guidelines and requirements
· Medical terminology
· Nutrition
· Office policies and procedures
· Patient history interview
· Patient preparation and assisting the physician
· Practice finances
· Preparing and administering medications
· Principles of infection control
· Professionalism
· Psychology
· Records management
· Resource information and community services
· Scheduling and monitoring appointments
· Screening and processing mail
· Treatment area
The AAMA has three categories for candidate eligibility for the exam:

· Recent or soon-to-be graduates of an accredited medical assistant program
· Non-recent graduates of an accredited medical assistant program, or those who have been graduated at least one year
· Those with previous AAMA CMA certification who need recertification; recertification is required every five years.
Registration for the exam may be done online. The test fee must be paid at the same time as registration. Applicants will be required to provide proof of education and previous certification, as applicable, when registering.
An application to test will be approved or disapproved within 30 days of application. Once a test candidate's application has been approved, the candidate will be provided instructions on scheduling their exam. Candidates are given a 90-day test window in which they must schedule their exam. Exams are offered year-round at Prometric Testing Centers.
Immediately following the exam, an unofficial score report will be issued. Approximately ten weeks after the exam, test takers will be mailed an official score report. Scores are based on the number of correct answers. Test candidates may only take the exam three times. If a test taker does not pass after three attempts, they are no long eligible for the CMA credential.
After a test taker passes the exam, they will be mailed an official certificate and wallet card indicating their CMA credential. CMA-holders must be recertified every five years.
AAMA recommends a number of different preparation methods, including reviewing practice tests and taking classes to prepare for the exam content.
RMA (AMT)
The AMT is a certifying agency and professional society for a number of healthcare related fields. It is accredited by the National Commission for Certifyiing Agencies (NCCA). Before seeking the RMA credential, the candidate has to first meet certain criteria.
To qualify to apply to the AMT, a candidate needs to fulfill educational and/or work experience requirements. The candidate must graduate from a medical assistance program or post-secondary school or college that is accredited. Alternatively, a candidate can meet the educational requirement if he or she graduates from a medical service training program of the United States Air Force. If the candidate graduated from any of these program within 4 years of taking the exam, there are no work experience requirements. If work experience requirements are applicable, the candidate must provide proof of having worked in the profession of medical assisting for no less than 5 years, where no more than 2 years can be as an instructor at a post-secondary school. Finally, the candidate must pass an exam administered by the AMT unless the candidate has passed another generalist medical assistant certification exam that is accepted by the AMT.
The RMA exam will have 210 questions in a multiple choice format. The AMT RMA exam has the following content:
- General Medical Assisting Knowledge
- Administrative Medical Assisting
- Clinical Medical Assisting

The AMT RMA exam is administered by Pearson Vue. Pearson Vue has testing sites across the country. The RMA exam can be taken in paper and pencil format or on computer, though one form may be required by the AMT.
NCMA (NCCT)
The NCCT offers the credential National Certified Medical Assistant (NCMA). It is accredited by the NCCA. To qualify to take the exam and receive the NCMA credential, a candidate must graduate from high school or have the equivalent degree of education and graduate from an approved medical assisting program of study or work in the field for at least two years.

To receive the NCMA credential, the candidate must take an exam. Only candidates who currently attend NCCT approved programs can apply online. All other candidates must complete and deliver a paper application to the NCCT. NCCT Exam Coordinators schedule the tests to be given at sites that they designate. Candidates in NCCT approved educational programs may be able to take the exam at their school locations upon confirmation of eligibility.

The NCCM exam consists of 165 questions and the candidate is given three (3) hours to complete the exam. The exam is multiple choice and each question gives four answer options, only one of which is the correct answer. The passing score is determined by a subject matter expert panel.

The NCCM exam covers knowledge, skills and abilities used in both the front and back office.
The exam covers such subjects as medical office management duties, general bookkeeping, insurance, medical procedures, infection control, patient exams, phlebotomy, EKGs, pharmacology, anatomy, physiology and medical terminology.

CCMA (NHA)

The NHA offers the credential Clinical Medical Assistant Certification (CCMA). It is accredited by the NCCA. To qualify to take the exam and receive the CCMA credential, a candidate must graduate from high school or have the equivalent degree of education and graduate from an approved medical assisting program of study or work in the field for at least one year. The NCMA credential is awarded for a two year period, at which time it must be renewed.

To receive the CCMA credential, the candidate must take an exam. Applicants must register online with the NHA and apply to take the exam. The exam is taken at a PSI test site. Applicants schedule their test with PSI.

The CCMA exam consists of 180 questions and the candidate is given three (3) hours to complete the exam. Only 150 questions will be scored, with 30 questions under consideration for future tests. NHA uses a scaled score method which is determined by computer software. A scaled score of 390 is needed to pass. Final scores are delivered to test candidates online.

The CCMA exam covers seven domain knowledge areas: (1) foundational knowledge and skills, (2) anatomy and physiology, (3) clinical patient care, (4) patient care coordination, (5) administrative assisting, (6) communication and customer care, and (7) medical law and ethics. A detailed outline of these content areas is provided by the NHA, which shows what various topics are covered by the exam.

For more information on test preparation, visit our
Medical Assistant Test Directory and try our free Medical Assistant Practice Test.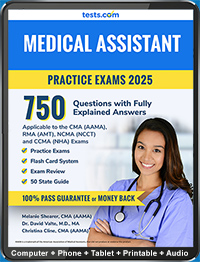 Quality starts with who wrote the material.
Our practice exam writer
s
:
Melanie Shearer,

Dr. David Valte,

Christina Cline,
Our Practice Tests follow the actual CMA (AAMA) Certification Exam Outline:
General

Administrative
Office Policies, Procedures

Clinical
Patient History, Interview
Preparing, Admin. Medications...
Nutrition
The three most popular medical assistant certifications are
CMA by the American Association of Medical Assistants (
AAMA
), RMA by the American Medical Technologists (AMT) and the
NCMA
by the National Center for Competency Testing (
NCCT
). In most cases, certification by any of these organizations will be accepted nationally.