2020 Edition
Medical Assistant Practice Exam
Take this free practice test to see what types of questions appear on a medical assistant certification exam.
The three most prevalent certifications for Medical Assistant are offered by the American Association of Medical Assistants (AAMA), the American Medical Technologists (AMT) and the National Center for Competency Testing (NCCT). In most cases, certification by any of these organizations will be accepted nationally. Subject matter for these exams falls into the following three subject areas: General Knowledge, Administrative Knowledge and Clinical Knowledge.
To prepare for the actual exam, we provide a 750 question Medical Assistant Practice Exam written by expert instructors in medical assisting.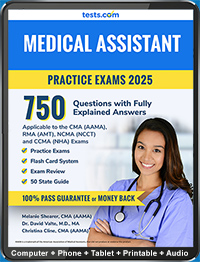 The Certified Medical Assistant (CMA), Registered Medical Assistant (RMA), National Certified Medical Assistant (NCMA ) and Clinical Medical Assistant Certification (CCMA) credentials are voluntary, though many medical assistants find that individual employers require them prior to making an offer of employment. To get certifed or registered, a candidate may have to take an exam adiministered by a certifying organization (AAMA, AMT, NCCT and NHA). To learn more about qulaifying to be a medical assistant and exam details, see our Medical Assistant Test Guide.