Metropolitan Achievement Test - MAT 8®
Preparation Resources
MAT8 preparation resources including practice tests with instant scoring and MAT8 Testing Guide. The Metropolitan Achievement Test helps educators evalulate students in grades K-12 in such areas as math, science and language arts to determine a students's critical thinking skills.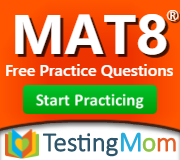 The Metropolitan Achievement Test is a standardized test for students in kindergarten through twelfth grade that covers language arts, math, science, social studies, spelling and reading. The test evaluates skills such as critical thinking and foundation skills. The aim of the exam is to help educators and parents evaluate a student's ability and predict future success. To learn more about the Metropolitan Achievement Test, see our MAT 8 Guide.