2023 Edition
MBLEx Practice Test
Take this free MBLEx practice exam to test your knowledge of massage therapy subjects.
This MBLEx practice test includes sample questions from real exam sections: body systems, anatomy, pathology and more. The actual exam was developed by FSMTB (Federation of State Massage Therapy Boards) and is administered at high-security test centers across the U.S. The licensing boards of individual states determine what is needed for licensure. In many states, a passing score on the MBLEx is one of several requirements for licensure.
To prepare for the MBLEx, use our 1000 question full-length practice exam for the MBLEx. authored by massage therapy instructors, who have all worked in massage therapy for many years.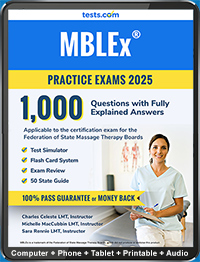 Quality starts with who wrote the material.
Our practice exam writer
s
:
Charles Celeste, LMT

Michelle MacCubbin, LMT

Sara Rennie, LMT

Andrew Dacres, LMT

Chanel Andrade, LMT
Passing the MBLEx is one of the last steps to attain a license as a professional massage therapist in many states. The Actual MBLEx is 100 questions with a 1 hour and 50 minute (110 minutes) time limit. Additionally, 5 minutes is allotted for a security agreement and another 5 minutes for a brief survey for a total of 2 hours (120 minutes).

Actual MBLEx Content Outline (source: The FSMTB Handbook):

Anatomy & Physiology
11-13 Questions (12%)

Benefits & Physiological Effects of Techniques that Manipulate Soft Tissue
13-16 Questions (14%)

Client Assessment, Reassessment & Treatment Planning
16-18 Questions (17%)

Ethics, Boundaries, Regulations, Laws
14-17 Questions (15%)

Kinesiology
10-12 Questions (11%)

Massage Overview & Bodywork History / Culture / Modalities
4-6 Questions (5%)

Pathology, Contraindications, Special Populations, Areas of Caution
12-15 Questions (13%)

Professional Practice Guidelines
12-15 Questions (13%)