2020 Edition
MBLEx Practice Test
Take this free MBLEx practice exam to test your knowledge of massage therapy subjects.
This MBLEx practice test includes sample questions from real exam sections: body systems, anatomy, pathology and more. The actual exam was developed by FSMTB (Federation of State Massage Therapy Boards) and is administered at high-security test centers across the U.S. The licensing boards of individual states determine what is needed for licensure. In many states, a passing score on the MBLEx is one of several requirements for licensure.
To prepare for the MBLEx, use our 1000 question full-length practice exam for the MBLEx. authored by massage therapy instructors, who have all worked in massage therapy for many years.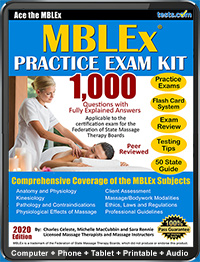 The MBLEx is a national exam that is required by individual states to license massage therapists. The exam is used to ensure candidates for licensure are qualified to practice massage therapy. Learn more about this test with The Guide to the Massage and Bodywork Licensing Examination (MBLEx).
Other Massage Test Resources on Tests.com: