Alaska Life and Health Insurance Agent Exam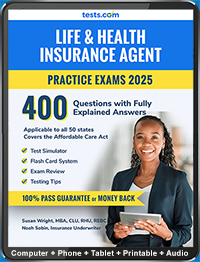 Need of a License:
An individual who is acting as an agent or producer needs a license to sell life and health insurance in Alabama.
Who Grants a License:
Licenses are granted by the
Alaska Division of Insurance
.
Qualifications to receive a License:
General eligibility criteria include:
Be 18 years of age
Be a resident of Alaska
Be trustworthy and competent
Pass an examination or examinations as a test of competence
Applying for the Producer Exam:
Candidates should thoroughly review the
Alaska Insurance Licensing Candidate Handbook
prior to applying for the exam. When ready, exam reservations can be made online at
www.pearsonvue.com
or by calling Pearson Vue at 800-274-5993. Additional correspondence may be mailed to:
Pearson Vue
Alaska Insurance
Attn: Regulatory Program
5601 Green Valley Dr.
Bloomington, MN 55437
Test Information:
Each major line's examination is given in a multiple-choice format and consists of two parts. The general portion deals with basic insurance product knowledge. The state portion deals with state-specific insurance laws, rules, regulations, and practices. The general portion of Life and Health lines each consist of fifty (50) questions that count toward the score and ten (10) pretest questions that do not count toward the score. Candidates have 75 minutes maximum time for completion. The state portion of Life and Health lines each consist of 50 questions and candidates have 60 minutes for completion. The combined Life and Health lines exam consists of 220 questions. Specific
exam content outlines
provide detailed information about topics covered on each exam.
Candidates who pass all parts of an examination will receive a score report that indicates "pass" only; no numeric score is reported. Examination results are confidential and are released only to the candidate.
How to Apply for the License:
After passing the examination, Producer candidates can apply for a license by
completing an application
.
Alaska Division of Insurance
Department of Commerce, Community and Economic Development
333 Willoughby Ave, 9th Floor
PO Box 110805
Juneau, AK 99811-0805
(907) 465-2515
License Renewal Requirements:
Individual Producer licenses must be renewed every 2 years and there is a continuing education requirement.
Applicable Regulations:
Life and health insurance agents in Alaska are regulated by the
Alaska Division of Insurance
.
_________________________________________
For more information on life and health insurance agent licensing and exam preparation, go to Tests.com's
Life and Health Insurance Exam Guide
.
And take Tests.com's free
Life and Health Insurance Agent Practice Test
.
For life and health insurance agent exam preparation products, such as study guides, flashcards and courses, go to Tests.com's
Life and Health Insurance Sales Exam
listings.