Certified Emergency Nurse Exam - CEN®
Find resources to become a certified emergency nurse, such as certification information, CEN study guides, CEN practice test and more. To become certified as an emergency room nurse, a nurse will have to tak the CEN exam. The Certified Emergency Nurse Exam is published by the Board of Certified Emergency Nursing (BCEN). For more information, see Tests.com's CEN Test Guide.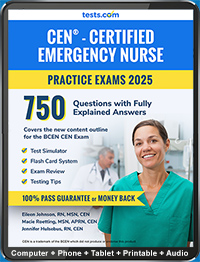 The CEN test is a certification exam for emergency room nurses. The CEN credential demonstrates that a nurse has knowledge and skills specific to the nursing needs of an emergency room. The exam includes 13 sections covering everything from cardiovascular emergencies to patient care to wound management. For more on the CEN exam, please see our CEN Test Guide.