Indiana Life and Health Insurance Agent Exam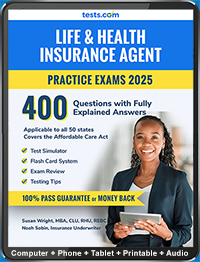 Need of a License:
An individual who is acting as an agent or producer needs a license to sell life and health insurance in Indiana.
Who Grants a License:
Licenses are granted by the
Indiana Department of Insurance
.
Qualifications to receive a License
: Individuals who wish to obtain an insurance license in the State of Indiana must:
Be at least 18 years of age
Maintain principal place of residence or principal place of business in Indiana
Successfully complete a pre-licensing education program and an examination
Not have committed any act that is a ground for denial, suspension or revocation of a license
Submit the appropriate forms, application, and nonrefundable fees for the desired license.
Prelicensing Education:
Life and Health Insurance licenses require 40 hours of prelicensing education. State-approved pre-licensing self-study courses may be used to fulfill classroom requirements.
You can access a current
list of authorized pre-licensing schools
from Sircon.
You may also access the
Sircon website
for the following information:
Transcript Inquiry
Available Course Offerings
Approved Courses
Approved Providers
A pre-licensing education Certificate of Completion will be issued by your pre-licensing school at the end of your course. The certificate is valid for six months. You must pass your exam and apply for your license during this six-month period.
Applying for the Producer Exam:
The Indiana Department of Insurance, Performance Assessment Network and its Associates (PAN), and Ivy Tech State College have teamed up to offer a comprehensive way for candidates to register for and schedule their exams, to make it as easy as possible for all candidates. Registration and scheduling are two different procedures: registration is the process of choosing the exam and paying for it (PAN), scheduling is choosing an appointment and location to take the exam at an Ivy Tech Testing Center.
The following are the steps needed for preparing for and taking an Indiana insurance exam:
1. USE THE CONTENT OUTLINE to STUDY:
Pre-Licensing Exam Content Study Materials
2. COMPLETE THE PRE-LICENSING EDUCATION REQUIREMENTS:
Find Approved Providers
3. OBTAIN A CERTIFICATE OF COMPLETION FROM THE PROVIDER
4. REGISTER AND SCHEDULE AN EXAMINATION:
Visit the IDOI Testing Website
Register for an account and login
Select and pay for the appropriate assessment
Schedule assessment
Take assessment at testing center
Should you need any assistance, please email IDOI_Support@panpowered.com or call Technical Support at 877-449-8378.
Test Information:
Before becoming licensed by the department each applicant for licensing as an insurance producer must pass an examination for the line(s) of authority for which application is made. The examination tests the candidate's knowledge concerning the line(s) of authority, duties and responsibilities of a licensee and the Indiana insurance laws and administrative rules. The following provides a general overview of the content outline. A detailed outline can be found in the
Pre-Licensing Exam Content Study Materials
.
Life Accident and Health Producer Indiana Examination
(160 Questions Total – Time Limit 2 hrs, 40 minutes)
I. Insurance Basics (21 questions total)
II. Types of Insurance Policies (16 questions total)
III. Annuity Contracts
IV. Life Insurance Policy Provisions
V. Life Insurance Policy Options
VI. Life Insurance Policy Riders
VII. Business Uses of Life Insurance
VIII. Qualified Retirement Plans
IX. Group Life Insurance
X. Government Insurance – Social Security
XI. Health Insurance Basics
XII. Disability Income Insurance
XIII. Medical Expense Policies
XIV. Senior Citizen Policies
XV. Accidental Death and Dismemberment (AD&D) Policies
XVI. Limited Health Policies
XVII. Uniform Individual Health Policy Provisions
XVIII. Group Health
XIX. Government Social Security Health Care
XX. State of Indiana General Insurance Regulations
XXI. Life Regulations
XXII. Health Regulations
How to Apply for the License:
You can apply for your license online through
Sircon
or through
NIPR
. For more information, visit the Indiana Department of Insurance's
website
, or contact by mail or by phone.
Indiana Department of Insurance
311 Washington Street
Indianapolis, IN 46204
317-232-2385
License Renewal Requirements:
Individual Producer licenses must be renewed every two years and there is a continuing education requirement.
Applicable Regulations:
Life and health insurance agents in Indiana are regulated by the
Indiana Department of Insurance
.
For more information on life and health insurance agent licensing and exam preparation, go to Tests.com's
Life and Health Insurance Exam Guide
.
And take Tests.com's free
Life and Health Insurance Agent Practice Test
.
For life and health insurance agent exam preparation products, such as study guides, flashcards and courses, go to Tests.com's
Life and Health Insurance Sales Exam
listings.