Nevada Nursing Assistant / Nurse Aide Guide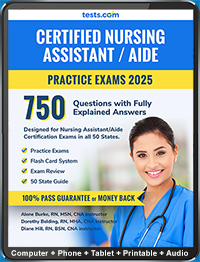 Is a License or Certification needed: To get certified and work as a nursing assistant or nurse aide in Nevada, you need to complete a nursing assistant program and pass a nursing aide exam. You must also be listed on the state's nurse aide registry.
Who Grants Certification: The Nevada Department of Health and Human Services maintains the registry of state-tested nursing assistants. A company called D & S Diversified grants certification to nursing assistants.
The Qualifications to become Certified: The routes of eligibility in order to qualify for receiving a nursing assistant registration in the state of Nevada include the following:
You have successfully completed a Nevada state-approved training program
You have graduated from or are a student of a nursing school and completed a "Fundamentals of Nursing" course.
Proof of eight hours of employment in a state-approved nursing home in the past two years
How to Apply for Certification and to take the Exam: In order to apply for nursing assistant registration in the state of Nevada, you will need to explore the options on the Nevada Nursing Board website on how to apply.
Apply to take the Nevada State Certified Nurse Assistant Exam with an application found here. Fill out the application and send it along with proof of the above qualifications to:
Headmaster LLP
P.O. Box 6609
Helena, MT 59604-6609
Completed paper applications must be received by Headmaster eight business days ahead of test day or express charges will occur. Business days exclude holidays, Saturdays and Sundays.
Test Content: The nursing assistant exam has two parts, a written section and a skills evaluation. Both parts must be passed to be listed on the Nevada Nurse Aide Registry. The written section is 75 questions in length. You will have 90 minutes to complete the exam.
The written exam covers the following topics:
Safety
Communication
Infection Control
Data Collection
Personal Care
Basic Nursing Skills
Mental Health
Role and Responsibility
Care Impaired
Disease Process
Resident Rights
Older Adult Growth and Development
You can find all details for the written exam here.
The Skills Evaluation will be a 35 minute time period given to complete 4 selected nurse aide skills. The first skill will be one of the following:
Bedpan/Measuring Output
Perineal Care
Putting on Or Removing Gloves
Draining a Urinary Drainage Bag and Measuring the Output.
You must actually wash your hands during this first skill. For the last 3 skills, you may use hand sanitizer instead of washing with soap and water.
Certification Renewal and Continuing Education Requirements: According to Nevada Law, to renew your license, it is required that you have worked 40 hours and had 24 hours of continued education at your place of employment in the paid role of a nurse aide during the past 24 months. This must be paid employment, not volunteer work, and in a nursing environment such as a nursing home, home health setting or a hospital.
You can renew your license with the Nevada Board of Nursing here.
Contact
NV Nurse Aide Registry
NV State Board of Nursing
5011 Meadow Mall Way, Suite 300
Reno, NV 89502-6547
Phone: 775-687-7700
Verification: 888-590-6726
Fax: 775-687-7707
---
Quality starts with who wrote the material.
Our practice exam writer
s
:
Alene Burke, RN, MSN

Dorothy Belding, RN, MSH

Diane Hill, RN, BSN
National Nurse Aide Assessment Program (NNAAP) Exam Content Outline Review
I. Physical Care Skills
A. Daily Living Activities:
Hygiene
Dressing and Grooming
Nutrition and Hydration
Elimination
Rest/Sleep/Comfort
B. Skills of Basic Nursing:
Infection Control
Safety/Emergency
Therapeutic/Technical Procedures
Data Collection and Reporting
C. Restorative Skills:
Prevention
Self Care/Independence
II. Psychosocial Care Skills
A. Emotional and Mental Health Needs
B. Spiritual and Cultural Needs
III. Nurse Aide Roles
A. Communication
B. Client Rights
C. Legal and Ethical Behavior
D. Member of the Health Care Team