New York Massage Therapist License Exam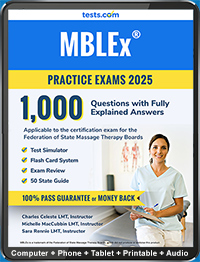 To get licensed in the state of New York, massage therapists are required to take a massage exam that covers such subjects as anatomy, physiology, pathology and kinesiology. Whether you live in Buffalo, New York City, Syracuse or another city or county, the resources below will help you get started on the path to receive your massage license.
Need of a Massage License: A massage therapist needs a license to practice massage therapy in New York.
Who Grants a License: Licenses are granted by the New York Office of Professions.
Qualifications to receive a License: A candidate needs to complete at least 1000 hours of classroom instruction and training in massage therapy from an approved school or institute registered with the New York State Education Department or from a school that has a curriculum that is substantially equivalent in both content and extent of training.
The candidate must also pass the New York State Massage Therapy Exam that is administered by Scantron Assessment.
For more information on qualifications, see New York State Massage Therapist License Requirements.
Applying for the Massage Exam: Candidates can apply to take the New York State Massage Therapy Exam by filing an examination scheduling application.
Test Content: The New York State Massage Therapy Exam is given twice each year, in January and August, and consists of 140 question test, 20 of which deal with Eastern methods.
The exam is divided into 4 content areas:
- Assessment and Evaluation
- Development of Treatment Plan
- Application of Treatment Skills
- Professional Responsibilities, Business Practice, and Professional Ethics
For more information on the exam, see the Exam Information Blueprint.
How to Apply for the License: Candidates must provide the Office of Professions the following Application. Candidates must send the application to:
New York State Education Department
Office of the Professions
PO Box 22063
Albany, NY 12201
Fees: There are fees to apply to become a licensed massage therapist.
License Renewal Requirements: A massage therapist must renew her license every three years and complete at least 36 hours of continuing education in that time period.
Applicable Regulations: Massage therapists in New York are governed by Commissioner's Regulations, Article 155, Section 7800 et seq. and Part 78.
---