Oklahoma Life and Health Insurance Agent Exam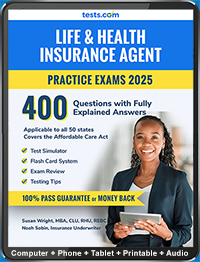 Need of a License:
An individual who is acting as a Producer needs a license to sell life and health insurance in Oklahoma.
Who Grants a License:
Licenses are granted by the
Oklahoma Insurance Department
.
Qualifications to Receive a License
: Individuals who wish to obtain an insurance license in the State of Oklahoma:
1. Be at least eighteen (18) years of age.
2. Be a resident of Oklahoma.
3. Pass the examination.
4. Apply for a license.
Applying for the Producer Exam:
Examinations are administered by the independent testing service, PSI Services, LLC. Registration and examination information can be found in the
Oklahoma Candidate Information Bulletin
, which should be reviewed thoroughly prior to registering for the exam. For the fastest and most convenient examination scheduling process, PSI recommends that you register for your examinations using the Internet. You can register online by accessing PSI's registration website at
www.psiexams.com
. You may also register by telephone or fax, if needed. Please see the Candidate Information Bulletin for further details.
Test Information:
Be sure to review the appropriate exam content outline to determine what topics are covered in the comprehensive exams. At the end of your exam, your score will be shown on the screen and you will receive a printed score report. To obtain a content outline for your specific examination, visit
www.psiexams.com
. The following is a general outline of exam content:
Oklahoma Producer's Examination for Life, Accident and Health Insurance
General: 112 items, Passing Score: 70%, Allotted Time: 158 minutes
State: 38 items, Passing Score: 70%, Allotted Time: 52 minutes
State-Specific Portion
Licensing (9 Items)
Appointment Procedures
Change of Address
Disciplinary Actions
Maintenance (including CE)
Process
Purpose
Qualifications
Temporary License
Types of Licensees
State Insurance Statutes, Rules, and Regulations (29 Items)
Accelerated Benefits
Capacity to Contract for Insurance - Minors
Credit Life, Accident, and Health
Domestic, Foreign, and Alien Insurers
Eligibility Requirements
Examination of Books and Records
Fair Credit Reporting Act
Fraternal Benefit Society
Fraud and False Statements
Insurance Commissioner General Duties and Powers
Life and Health Insurance Guaranty Association Act
Life Insurance Requirements
Mandated or Required Benefits
Mandated or Required Offers
Marketing/Advertising Practices
Medicare Supplement
Mutual Insurers
Other Requirements
Payment or Acceptance of Commission
Proof of Loss
Rate Filings
Small Employer Health Insurance
Standard Nonforfeiture Law
State Specific Definitions
Stock Insurers
Suitability
Unfair Claims Settlement Practices Act
Unfair Trade Practices
Rebating and Inducements
Defamation
Twisting
General Portion
Provisions, Options, Exclusions, Riders, Clauses, and Rights (42 Items)
Mandatory Provisions
Entire Contract
Time Limit on Certain Defenses
Grace Period
Notice of Claim
Claim Forms
Proof of Loss
Time of Payment of Claims
Payment of Claims
Legal Actions
Change of Beneficiary
Continuation and Extension of Benefits
Preexisting Conditions
Policy Provisions and Options
Entire Contract
Insuring Clause
Free Look
Consideration Clause
Owner's Rights
Beneficiary Designations
Primary and Contingent
Revocable and Irrevocable
Common Disaster
Premium Payment
Modes
Automatic Premium Loan
Reinstatement
Policy Loans, Withdrawals, Partial Surrenders
Nonforfeiture Options
Dividends and Dividend Options
Incontestability
Assignments
Suicide
Misstatement of Age
Settlement Options
Fraud
Other Provisions and Clauses
Probationary Period
Elimination Period
Coinsurance
Deductibles
Copayment
Policy Exclusions
Policy Riders
Waiver of Premium
Guaranteed Insurability
Payor Benefit
Accidental Death and/or Accidental Death and Dismemberment
Accelerated Benefits
Rights of Renewability
Noncancellable
Cancellable
Guaranteed Renewable
COBRA
HIPAA
Life Products (30 Items)
Whole Life - Stock/Mutual
Term
Universal Life
Endowment
Joint Life
Survivorship
Variable Life
Group Life
Annuities
Fixed
Equity
Variable Annuity
Viatical Settlement
Underwriting (13 Items)
Completing the Application
Required Signatures
Collecting the Initial Premium and Issuing the Receipt
Insurable Interest
Medical Information and Consumer Reports
Delivering the Policy
When Coverage Begins
Sales Practices
Considerations in Replacing Insurance (2 Items)
State Replacement Requirements
Types of Health Providers and Products (15 Items)
Limited Benefit Plans
Specified Disease (cancer, heart)
Hospital Confinement Indemnity
Major Medical
HMOs
PPOs
MEWAs
Group Health Plans
Credit Disability Policy
Disability Income
Dental
Medicare Supplement Insurance (5 Items)
Medicare Advantage (Part C)
Part D
Plans
Long-Term Care (LTC) Policies (5 Items)
Deductibility of Premiums for LTC Insurance for State Income Tax
Purposes
Renewal Features
Sales Requirements
Minimum Standards
Coverage Selections
Suitability
How to Obtain the License:
A new license application is required to be submitted online AFTER passing the licensing exam. Allow 3 business days for PSI to provide the exam results to the Oklahoma Insurance
Department (OID) electronically prior to applying. Access the OID web page at
www.oid.ok.gov
then select the License/Education tab and click on the "New" button for links and instructions on how to apply. Allow (5) business days for the OID to review the application. You will be notified, by the contact email address, when the application is approved or if the OID needs additional information. For additional information on licensure, please contact:
Oklahoma Insurance Department
Five Corporate Plaza
3625 NW 56th Street, Suite 100
Oklahoma City, OK 73112
(405) 521-3916
(800) 522-0071 (in-state only)
www.oid.ok.gov
License Renewal Requirements:
Individual Producer licenses must be renewed every two years and there is a continuing education requirement.
Applicable Regulations:
Life and health insurance Producers in Oklahoma are regulated by the
Oklahoma Insurance
Department.
For more information on life and health insurance agent licensing and exam preparation, go to Tests.com's
Life and Health Insurance Exam Guide
.
And take Tests.com's free
Life and Health Insurance Agent Practice Test
.
For life and health insurance agent exam preparation products, such as study guides, flashcards and courses, go to Tests.com's
Life and Health Insurance Sales Exam
listings.