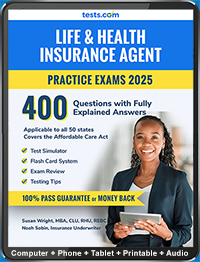 Need of a License:
An individual who is acting as an agent or producer needs a license to sell life and health insurance in Utah.
Who Grants a License:
Licenses are granted by the
Utah Insurance Department
.
Qualifications to receive a License
: Individuals who wish to obtain an insurance license in the State of Utah:
1. Be at least eighteen (18) years of age.
2. Be a resident of Utah.
3. Complete the fingerprinting requirement.
4. Pay fees and pass the examination.
5. Apply for a license.
Applying for the Producer Exam:
Examinations are administered by the independent testing service, Prometric. Registration and examination information can be found in the
Utah Licensing Information Bulletin
, which should be reviewed thoroughly prior to registering for the exam. To register and schedule an exam online, go to
www.prometric.com/Utah
. You may also register and schedule your examination by phone or fax. Please see the
Utah Licensing Information Bulletin
for further details. Direct all questions and requests for information about exams to:
Prometric
7941 Corporate Drive
Nottingham, MD 21236
Phone: 800.697.8947
Fax: 800.347.9242
TDD User: 800.790.3926
www.prometric.com/Utah
Completing the Fingerprinting Requirement
: Register for fingerprinting at the same time you register for your required exam. You must schedule your appointment and pay the test registration fee and Prometric's fingerprint processing fee online at
www.prometric.com/utah/insurance
or by calling 800.697.8947 before arriving at the test center. After passing the exam, use the kiosk at the test center to complete your license application online via Sircon or NIPR. The license application will include an FBI/BCI fingerprint fee that must be paid by credit card during the online license application process.
Print out your Sircon or NIPR confirmation page and show it to the test center supervisor as proof you have paid the FBI/BCI fees. Your fingerprints will then be scanned. Fingerprint results will be returned to the Department. The Department will evaluate the results and the license application prior to issuing any license.
Test Information:
Each exam will cover the Utah statutes and general principles sections, as well as the specific content for each line. Be sure to review the appropriate exam content outline to determine what topics are covered in the comprehensive exams. At the end of your exam, your score will be shown on the screen and you will receive a printed score report. The
Utah Licensing Information Bulletin
contains specific content information beyond the following general outlines:
Utah Life, Accident, and Health Insurance Agent Examination
Series 17-03 (150 questions – 2.5 hour time limit)
1.0 Insurance Regulation 7%
1.1 Licensing
1.2 State regulation
1.3 Federal regulation
2.0 General Insurance 5%
2.1 Concepts
2.2 Insurers
2.3 Agents and general rules of agency
2.4 Contracts
3.0 Life Insurance Basics 7%
3.1 Insurable interest
3.2 Personal uses of life insurance
3.3 Life settlements (including stranger originated life insurance)
3.4 Determining amount of personal life insurance
3.5 Business uses of life insurance
3.6 Classes of life insurance policies
3.7 Premiums
3.8 Licensee responsibilities
3.9 Individual underwriting by the insurer
4.0 Life Insurance Policies 7%
4.1 Term life insurance
4.2 Whole life insurance
4.3 Flexible premium policies
4.4 Specialized policies
4.5 Group life insurance
5.0 Life Insurance Policy Provisions, Options and Riders 9%
5.1 Common provisions
5.2 Beneficiaries
5.3 Settlement options
5.4 Nonforfeiture options
5.5 Policy loan and withdrawal options
5.6 Dividend options
5.7 Disability riders
5.8 Accelerated (living) benefit provisions/riders
5.9 Riders covering additional insureds
5.10 Riders affecting the death benefit amount
6.0 Annuities 9%
6.1 Annuity principles and concepts
6.2 Immediate versus deferred annuities
6.3 Annuity (benefit) payment options
6.4 Annuity products
6.5 Personal Uses of annuities
7.0 Federal Tax Considerations for Life Insurance and Annuities 7%
7.1 Taxation of personal life insurance
7.2 Modified endowment contracts (MECs)
7.3 Taxation of non-qualified annuities
7.4 Taxation of individual retirement plans
7.5 Rollovers and transfers (IRAs and qualified plans)
7.6 Section 1035 exchanges
8.0 Qualified Plans 4%
8.1 General requirements
8.2 Federal tax considerations
8.3 Plan types, characteristics and purchasers
9.0 Accident and Health Insurance Basics 12%
9.1 Definitions of perils
9.2 Principal types of losses and benefits
9.3 Classes of health insurance policies
9.4 Limited policies
9.5 Common exclusions from coverage
9.6 Producer responsibilities in individual health insurance
9.7 Individual underwriting by the insurer
9.8 Considerations in replacing health insurance
9.9 Other required, uniform and general provisions
10.0 Disability Income and Related Insurance 2%
10.1 Qualifying for disability benefits
10.2 Individual disability income insurance
10.3 Unique aspects of individual disability underwriting
10.4 Group disability income insurance
10.5 Business disability insurance
10.6 Social Security disability
11.0 Medical Plans 10%
11.1 Medical plan concepts
11.2 Types of providers and plans
11.3 Cost containment in health care delivery
11.4 Utah requirements (individual and group)
11.5 HIPAA (Health Insurance Portability and Accountability Act) requirements
11.6 Health Savings Accounts (HSAs) and Health Reimbursement Accounts (HRAs)
11.7 HIPUtah
11.8 Uniform health benefit plan information card
11.9 Federal HealthCare Reform (Patient Protection and Affordable Care Act)
12.0 Group Accident and Health Insurance 7%
12.1 Characteristics of group insurance
12.2 Types of eligible groups
12.3 Marketing considerations
12.4 Employer group health insurance
12.5 Small employer medical plans
12.6 Regulation of employer group insurance plans
12.7 Types of funding and administration
12.8 Utah Health Exchange
13.0 Dental Insurance 1%
13.1 Categories of dental treatment
13.2 Indemnity plans
13.3 Employer group dental expense
14.0 Medicare 4%
14.1 Medicare standard policies
14.2 Medicare supplement
14.3 Other options for individuals with Medicare
14.4 Medicare Improvements for Patients and Providers Act of 2008 (MIPPA)
15.0 Long-Term Care Insurance 4%
15.1 Long-term care (LTC) policies
16.0 Federal Tax Considerations for Accident and Health Insurance 2%
16.1 Personally-owned health insurance
16.2 Employer group health insurance
16.3 Medical expense coverage for sole proprietors and partners
16.4 Business disability insurance
16.5 Health Savings Accounts (HSAs) and Health Reimbursement Accounts (HRAs)
Applying for the License:
You will complete the fingerprinting requirement at the same time as you apply for your license. See the "Completing the Fingerprinting Requirement" section above. For further details, please see the
Utah Licensing Information Bulletin
.
Direct additional questions about licensure to:
Utah Insurance Department
Suite 3110 State Office Building
PO Box 146901
Salt Lake City, UT 84114-6901
Phone: 801.538.3855; In-State Toll Free: 800.439.3805
Web site:
www.insurance.utah.gov
License Renewal Requirements:
Renewals of Individual Producer licenses are required a minimum of every two years, depending upon the agent's date of birth, and there is a continuing education requirement.
Applicable Regulations:
Life and health insurance agents in Utah are regulated by the
Utah Insurance Department
.
For more information on life and health insurance agent licensing and exam preparation, go to Tests.com's
Life and Health Insurance Exam Guide
.
And take Tests.com's free
Life and Health Insurance Agent Practice Test
.
For life and health insurance agent exam preparation products, such as study guides, flashcards and courses, go to Tests.com's
Life and Health Insurance Sales Exam
listings.