Need of a License:
A real estate salesperson must be licensed by the state of Utah to represent clients in the sale or purchase of real estate that is located in Utah.
Who Grants a License:
Licenses are granted by the
Utah Division of Real Estate
("UDRE").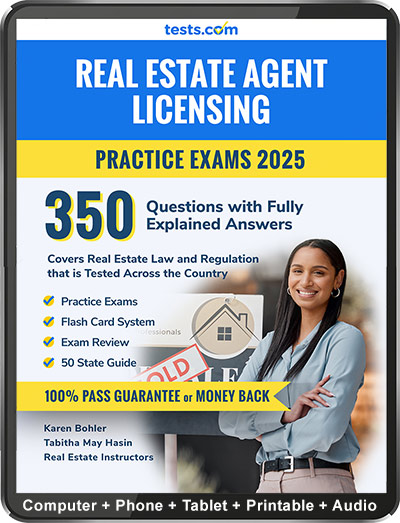 Qualifications to receive a License:
A candidate must complete 120 clock hours of
study
at a UDRE-approved real estate school (search schools
here
), pass a school-administered final exam, and pass a state exam. All candidates must submit a full set of fingerprints, and prove
legal presence
. All candidates must be at least 18 years of age, and have a high school diploma or equivalent. For more information about qualifications, see the page titled
Licensed Sales Agent Registration
on the UDRE website.
Applying for the Exams:
Candidates must use
this form
to have their pre-licensing education certified by an authorized representative from the pre-licensing school. Candidates should apply to take the state exam through the Pearson Vue website
scheduling page
. For more information, see the
State of Utah Real Estate Candidate Handbook
.
Test Content:
The Utah state real estate licensing exam is comprised of two separate portions, the national portion and the state-specific portion. Five questions on the national portion and five questions on the state-specific portion are considered "experimental" questions and are not scored. Both tests are comprised of multiple choice questions with four answer choices provided for each question. Test takers are allotted 4 hours to complete both portions of the exam. A scaled score of at least 70 is required to pass. The exam is presented in a computer-based format, but accommodations for paper-based tests and/or oral testing can be provided with special arrangements.
The national portion of the test consists of 85 questions (80 are scored, 5 are not scored) and tests the candidate's knowledge of general real estate concepts, including the following subject areas:
Real property characteristics
Property valuation and appraisal
Contracts and relationships with buyers and sellers
Property conditions and disclosures
Federal laws governing real estate activities
Financing the transaction, and settlement
Leases, rents, and property management
Brokerage operations
The state-specific test consists of 55 questions (50 are scored, 5 are not scored) and tests the candidate's knowledge of the state-specific concepts, including the following subject areas:
Definitions
Licensing
Real estate office procedures
Property management
Licensee practice
Enforcement
Real Estate Education, Research and Recovery Fund
Utah water rights
Adverse possession
Statute of Frauds
Closing statements
How to Apply for the License:
The license application is issued by the testing company upon passing both portions of the licensing exam. Candidates must provide the UDRE with the following documents: (1) completed application and application
fee
; (2) original Utah state real estate licensing exam score report(s); (3)
social security verification
; and (4) two fingerprint cards.
Fees:
The UDRE charges a license application
fee
.
Who administers the test:
The UDRE and Pearson Vue.
License Renewal Requirements
– A Utah real estate licensee must take 18 credit hours of
continuing education
(either online or in the classroom) from a
UDRE-approved provider
every two years. Further information is provided on the UDRE website,
here
.
Applicable Regulations:
Real estate licensees in Utah are regulated under
Utah Real Estate Licensing and Practices Act
, and the
Utah New Administrative Rules
.
To prepare for your Real Estate Agent exam, use our 300 question practice test, with answers fully explained, by expert Karen Bohler.

For more information on real estate agent licensing and exam preparation, go to Tests.com's
Real Estate Agent Exam Guide and Real Estate Broker Exam Guide.
And take Tests.com's free Real Estate Agent Practice Test and Real Estate Broker Practice Test.
For real estate agent exam preparation products, such as study guides, flashcards and courses, go to Tests.com'sReal Estate Agent Exam and Real Estate Broker Exam listings.