2023 Edition
ASE A3 Practice Test
This ASE 3 Practice Test covers the manual drive train, which is a series of components that transfer power from the engine to the wheels. Manual drive trains are controlled directly by the driver through the use of a clutch and gearshift.
The exam covers the following subjects:
Manual Drive Train
Axles
Clutch
Gearshift
Related Components
Tests.com's ASE A3 Practice Test was written by Dr. John Kershaw, an ASE test prep expert: ASE test question developer; ASE Certified Master Technician; ASE Master Truck Technician; and Auto Industry Technical Instructor. Dr. Kershaw was among the first to receive ASE certification in 1972.
For the complete practice test, flash cards, exam review and testing tips, check out: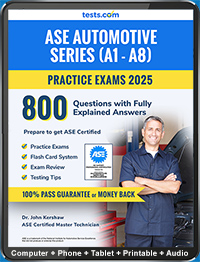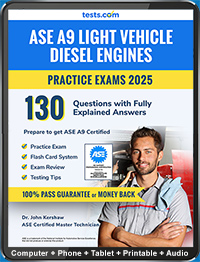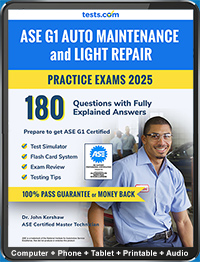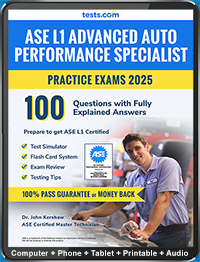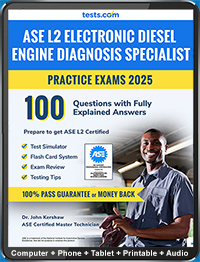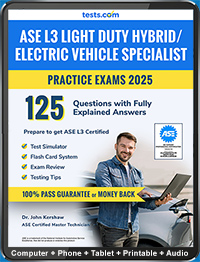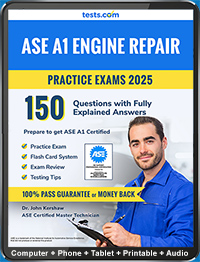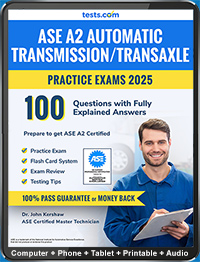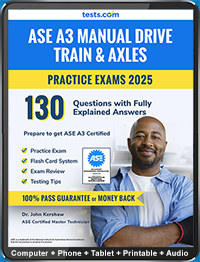 Quality starts with who wrote the material.
Our practice exam writer
s
:
Written by:
Dr. John Kershaw
ASE Test Prep Expert


• General Electric/Electronic
• Battery and Starting Systems
• Lighting Systems


• Instrument Cluster/ Driver Info.
• Body Electrical Systems
_______________
Number of Questions on the Actual ASE A Series Tests
A2 – Automatic Transmission/Transaxle (60)
A3 – Manual Drive Train & Axles (50)
A4 – Suspension & Steering (50)
A6 – Electrical/Electronic Systems (60)
A7 – Heating & Air Conditioning (60)
A8 – Engine Performance (60)
A9 – Light Vehicle Diesel Engines (60)